Pad Thai With Black Rice Noodles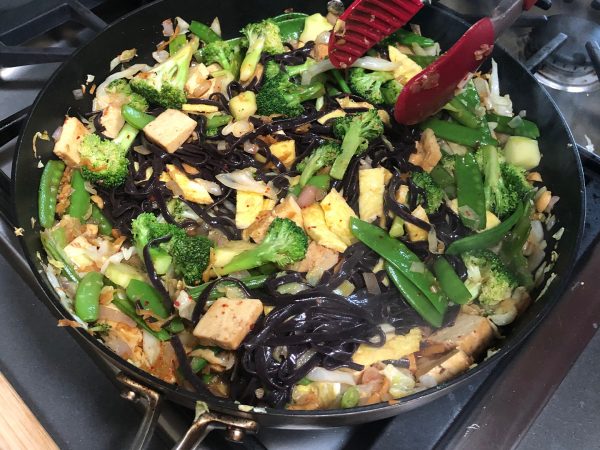 Black rice noodles not only make this Pad Thai a tasty and filling meal, but these impressive noodles will also delight the senses with visual flair.
This recipe will definitely wow guests and family. Making healthy dishes is all about the taste and smells but I always find the final presentation to be just as important. Black rice noodles, also called "forbidden rice" noodles can be found online. Feel free to substitute with regular rice sticks if you prefer. This dish is easy to prepare in a well-seasoned wok or a large frying pan of your choice. With the long list of ingredients make sure you prepare all ingredients and spices before beginning – mise en place like a true chef!
Ingredients
7-8 ounces black rice stick noodles* (see notes)
2 tablespoons lime juice
2 tablespoons rice vinegar
4 tablespoons dark brown sugar
1 teaspoons Thai chili powder (or more to taste)
2 tablespoons Thai or Vietnamese fish sauce
2 tablespoons shoyu or tamari
1/4 cup water
4 cloves garlic, mashed
4 shallots, minced
4 scallions, green part only, cut in 2″ lengths
1/4 cup chopped preserved radish or turnip** (see notes)
8 ounces baked, pressed tofu, sliced (or fried, cubed regular firm tofu)
2 eggs, lightly beaten, optional
8 ounces raw shrimp, shelled, optional
3/4 cup mung bean sprouts (or snap or snow peas)
1 cup shredded cabbage (and/or broccoli, etc.)
3 tablespoons avocado oil or algae oil (or part dark sesame oil)
1/4 cup roasted unsalted peanuts, chopped (or cashews)
1 lime, quartered
1/2 cup Fresh cilantro, chopped
1/4 cup Fresh spearmint leaves, chopped
1/4 cup Fresh Thai basil, chopped (or Italian if Thai is not available)
Instructions
Boil  6-8 cups water.  Turn off heat.
Add rice stick noodles and let sit in hot water for 5-6 minutes until soft.
Drain.  Rinse in cold water for 30 seconds, drain again, and set aside.
Mix lime juice, vinegar, sugar, chili powder, fish sauce, shoyu, and water.  Set aside.
If using eggs, heat 1 tablespoon of the oil in a small nonstick skillet over medium high heat.  Add eggs and swirl around skillet to form an even layer.
Cook until set on one side, about 1 minute, then turn and cook other side until set, about 20 seconds more.
Transfer to a cutting board and slice thinly.  Set aside.
If using shrimp, stir fry until they are barely cooked.  Set aside.
Heat 3 tablespoons of the oil in a wok or large skillet over high heat.
Add shallots and garlic and stir-fry briefly.
Add scallions, preserved radish, tofu, bean sprouts, vegetables, and half the peanuts, and stir-fry for 2 minutes.
Add the noodles, sauce, and optional eggs, and shrimp, and stir-fry, tossing constantly until noodles absorb most of the sauce and sauce thickens, about 2-3 minutes.
Garnish with remaining peanuts and chopped herbs and serve with limes.
Notes:
* You may substitute regular rice stick noodles instead.
** You can find preserved radish online.