Is Black Rice Better?
Can you tell me anything about black rice? I understand that it's more nutritious than brown rice. If that's true, should we now choose black rice over brown?
Andrew Weil, M.D. | March 22, 2016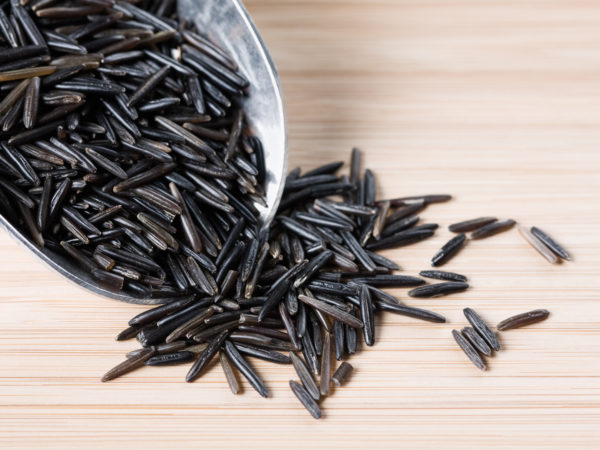 Originally published on Dec. 21, 2015.
Black rice was known as "forbidden rice" in ancient China, because only the emperor and members of the royal family were permitted to eat it. Its nutritional value probably had nothing to do with why it was so prized – its rarity was the reason. Only recently has black rice been studied well enough to determine that it is nutritionally superior to white rice and even brown rice. Although it contains the same nutrients and more fiber than brown rice, it also contains anthocyanins, the same plant pigments responsible for the health benefits of other colorful plant foods including blueberries, purple grapes, plums, tart cherries and beets. Anthocyanins have anti-inflammatory effects, protect against carcinogens and may help prevent heart disease.
Research results presented at the 2010 American Chemical Society meeting in Boston showed that a spoonful of black rice bran contains more anthocyanins than you would get in a spoonful of blueberries.
Raw black rice appears black or dark brown in color, but when cooked, it takes on a purplish hue, thanks to those pigments. It has a slightly sweet taste, which is why it is sometimes used in Asian desserts.
Traditional Chinese medicine eventually came to consider black rice as a beneficial tonic, especially for the elderly, but today in Asia it is used mainly for food decoration, noodles, sushi, and pudding. In Laos, black rice is still regarded as nutritionally inferior to white rice.
The latest research on black rice comes from geneticists who have traced its origins to changes in a single gene in domesticated varieties of rice. The Japanese research team that made this discovery studied 21 different varieties of black rice that had been maintained by farmers. We know that black rice comes from domesticated strains because no black grains have ever been found in more than a thousand samples of wild rice stored in gene banks.
Today's black rice comes in several varieties from Indonesia and Thailand. In my opinion, it leaves brown rice in the dust. You'll find a recipe for "Forbidden Rice with Ginger and Lemongrass" in my new cookbook: Fast Food, Good Food: More than 150 Quick and Easy Ways to Put Healthy, Delicious Food on the Table. The recipe contains only 4 ingredients (plus water), is simple to prepare and will work perfectly with any fish entree. Enjoy.
Andrew Weil, M.D.
Source:
Takeshi Izawa et al, "The Birth of a Black Rice Gene and Its Local Spread by Introgression." The Plant Cell, September 2015, http://dx.doi.org/10.1105/tpc.15.00310