Multi-Grain Scones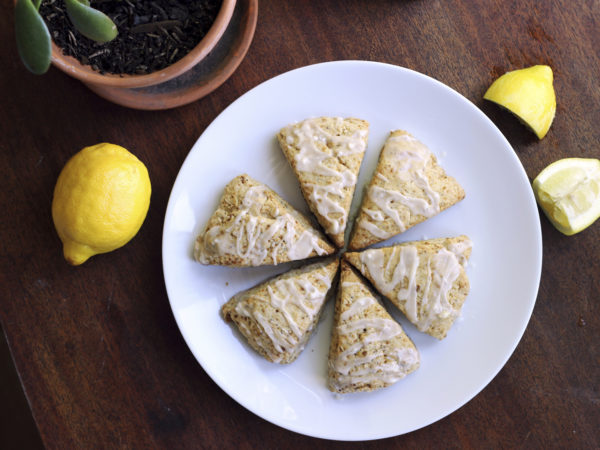 Nutrition
Nutrients Per Serving:
Calories 375.3
Fat 10.7g
Saturated Fat 1.5g (25.4% of calories from fat)
Protein 8.6g
Carbohydrate 62.0g
Cholesterol 23mg
Fiber 5.2g
This recipe is from THE HEALTHY KITCHEN – Recipes for a Better Body, Life, and Spirit by Andrew Weil, M.D and Rosie Daley (Knopf)
Looking for a quick way to get out of the house on workday mornings? These scones are the perfect answer to the morning rush!
These scones are quite filling – you can eat just half of one and still satisfy the need for morning sustenance. Plus, you'll get in a nice amount of bran for the day, an appropriate source of roughage.
Food as Medicine
One meta-analysis of seven studies, encompassing some 150,000 people, showed that those with the highest intake of dietary fiber – such as one finds in whole grains – had a 29 percent lower risk of cardiovascular disease compared to those with the lowest consumption.
Ingredients
1 egg
1/2 cup sugar
5 tablespoons grapeseed or expeller-pressed canola oil
1/8 teaspoon lemon zest
1/2 cup oatmeal (not instant)
1/4 cup wheat bran
1 1/2 cups unbleached white flour
2 tablespoons millet
2 tablespoons poppy seeds
1/2 teaspoon salt
1 tablespoon baking powder
1/2 teaspoon cinnamon
1/2 cup milk
Zesty Lemon Topping:
3 tablespoons freshly squeezed lemon juice
1/4 cup confectioners' sugar
Instructions
Preheat oven to 375°F.
Whisk the egg, sugar and oil together in a bowl.
Mix the lemon zest and all of the dry ingredients together in a separate bowl and stir with a wooden spoon until all of them are evenly dispersed throughout.
Slowly add the dry ingredients into the egg, sugar and oil, and mix to create a thick dough.
Add the milk and mix well.
Lightly grease a baking pan.
Scoop up tablespoonfuls of the dough and drop them one by one in mounds onto the baking sheet, leaving 2 inches of space between. You should have about 10 scones.
Bake for 15-20 minutes, just until the crust is barely golden brown and the dough is dry.
Remove from the oven and let cool for 10 minutes.
With a fork, mix the Lemon Topping ingredients until the sugar is completely incorporated.
Drizzle 1 tablespoon ever each scone.