Fettuccine With Kale Pesto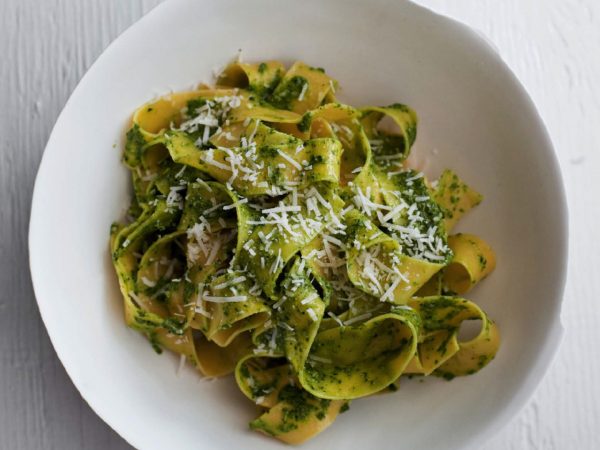 Unlike pesto made with basil, this kale version doesn't lose its bright green color, and it has more micronutrients and protective phytonutrients.
Kale pesto is very delicious, and people who try it can't believe it contains no basil. It makes a full-bodied sauce for a chunky pasta like pappardelle. Keep this pesto on hand in the freezer and dinner will be ready in the time it takes for the pasta to cook. When you make a batch, pour into ice cube trays and freeze. Once frozen, remove from the ice cube tray and store in a freezer-proof container for easy access to a tasty meal any time!

Ingredients
1 pound fettuccine or pappardelle
1 cup Kale Pesto
1 cup grated Parmigi Reggiano cheese, plus more for serving
Instructions
Bring a large pot of salted water to a boil. Add the fettuccine and cook until al dente, according to the package directions.
Just before the pasta is done, remove 2 tablespoons of the pasta water and add it to the Kale Pesto. Add the cheese and mix well.
Drain the pasta and toss with the pesto mixture.
Serve with extra cheese for those who might want it.