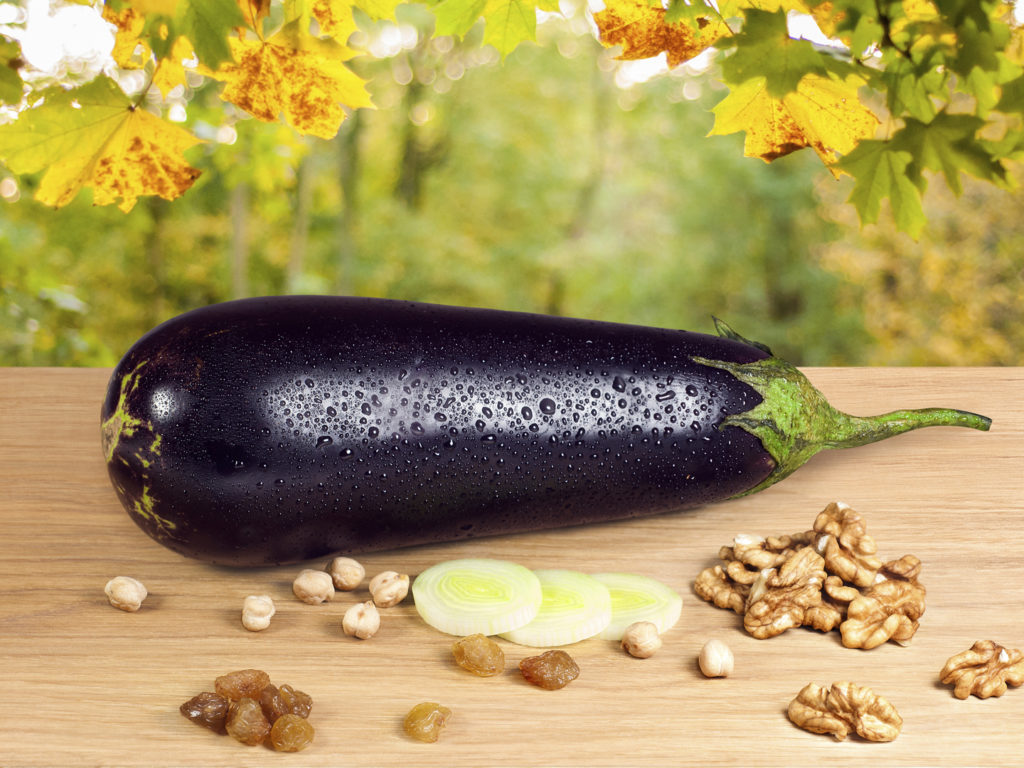 Eggplant-Walnut Pâté
Nutrition
Serves 8
Nutrients Per Serving
Calories: 98.0
Protein: 2.2 grams
Fat: 8.0 grams
Saturated Fat: 0.8 grams
Monounsat Fat: 2.7 grams
Polyunsat Fat: 4.1 grams
Carbohydrate: 6.2 grams
Fiber: 2.2 grams
Cholesterol: 0.0 mg
Vitamin A: 69.9 IU
Traditional pâtés are often made from high-fat meats and liver. They can be delicious and quite elegant, but less than nutritious. This vegetarian version is sophisticated, filled with flavor, and healthful. Enjoy it on a special occasion or as an everyday spread with whole-grain crackers.
Food as Medicine
Eggplant contains an anthocyanin called nasunin, a powerful antioxidant that can protect cell membranes from damage by free radicals.
Ingredients
1 large eggplant
1 cup walnut pieces
2 teaspoons fresh ginger root, peeled, grated and finely chopped
2 cloves garlic, mashed
1 tablespoon extra-virgin olive oil
1/8 teaspoon ground allspice
Salt and hot pepper sauce to taste
Instructions
1. Preheat oven to 450°F. Pierce the eggplant with a fork in several places and bake until very soft, about 45 minutes.
2. While the eggplant is baking, grind the walnuts in a food processor until very fine, and set aside.
3. Remove the eggplant from oven, slash to let steam escape, drain off any liquid, and scrape the pulp into a food processor with the ginger root, garlic and olive oil. Process until smooth.
4. Add the ground walnuts and allspice, and process until smooth.
5. Season to taste with the salt, and hot pepper sauce. Spoon into a small loaf dish and chill several hours or until firm.
Want more healthy, delicious recipes? Join the Dr. Weil on Healthy Aging online guide for access to hundreds of anti-inflammatory recipes and our exclusive eating guides. Sign up today and get 14 days free!