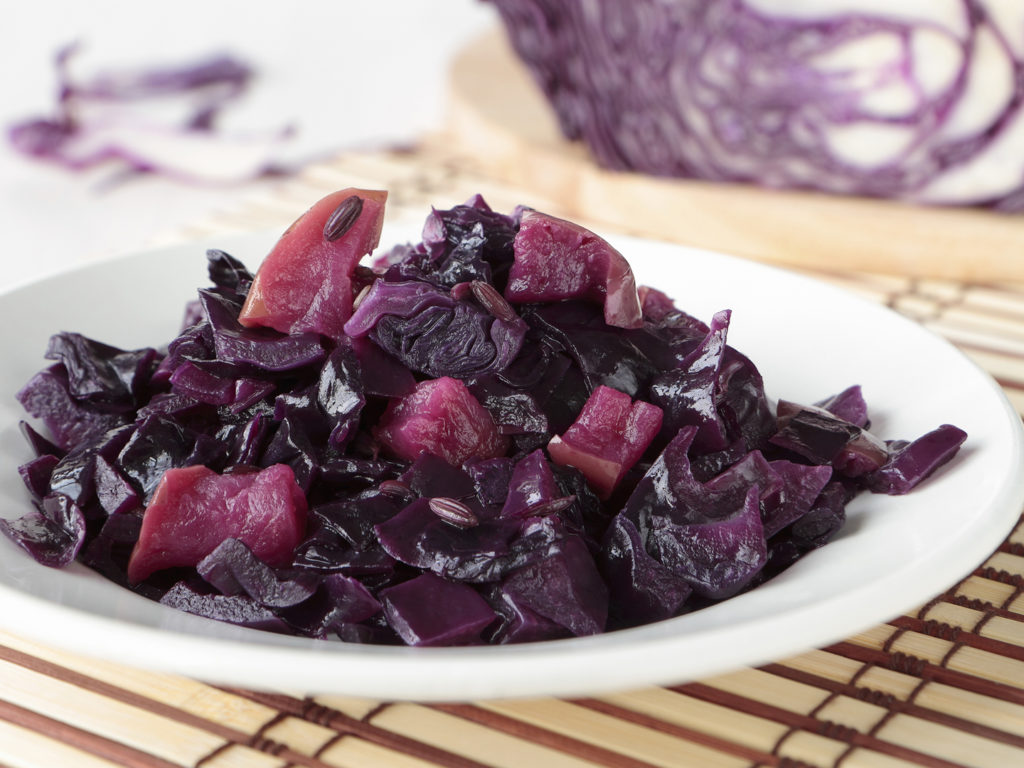 Braised Red Cabbage
Nutrition
Serves 6
Nutrients Per Serving
Calories: 141.9
Protein: 3.6 grams
Fat: 3.0 grams
Saturated Fat: 0.4 grams
Monounsat Fat: 1.7 grams
Polyunsat Fat: 0.5 grams
Carbohydrate: 28.5 grams
Fiber: 6.4 grams
Cholesterol: 0.0 mg
Vitamin A: 7,837.7 IU
Vitamin E: 0.9 mg/IU
Vitamin C: 126.0 mg
Calcium: 129.1 mg
Magnesium: 44.0 mg
Red cabbage is just like green cabbage in taste and texture, but with the added benefit of powerful antioxidants called anthocyanins that give the redhead of the vegetable world its distinctive color. Red cabbage is also one of the cruciferous family of vegetables; all are rich in fiber, vitamins (most notably vitamin C), minerals like potassium and calcium, and cancer-fighting compounds called indoles. (Other cruciferous vegetables include Brussels sprouts, broccoli, kale, and chard; all are delicious.) Be prepared when cooking red cabbage for the color to "bleed" into the other ingredients. The acidic vinegar and wine in this dish keep the cabbage a beautiful purple color. Without the acid, the cabbage will turn blue. This dish is a taste sensation and makes a great side dish with salmon or as a warm appetizer salad. And considering the very affordable price of cabbage, it can't be beat
Food as Medicine
Cruciferous vegetables such as cabbage may offer additional cancer protection compared to other classes of vegetables. A Netherlands study of 100,000 people found that those eating the most vegetables had a 25 percent lower risk of colorectal cancer, but those eating the most cruciferous vegetables did nearly twice as well – they had a 49 percent drop in colorectal cancer risk. This recipe is heart-healthy too: cabbage, whether raw or cooked, has cholesterol-lowering properties, as do apples thanks to their soluble fiber. Garlic contains sulfur compounds that can reduce blood pressure by dilating the blood vessels.
Ingredients
1 tablespoon extra-virgin olive oil
1 large yellow onion, chopped
2 large carrots, peeled and sliced
1 large head red cabbage, cored and sliced 1/4-inch thick
1 large green apple, peeled, cored, and diced
3 large cloves garlic, pressed
1 bay leaf
1/4 teaspoon ground cloves
1 1/2 cups dry red wine
1/4 cup red wine vinegar
2 tablespoons light-brown sugar
1 cup peeled chestnuts (optional)
Salt to taste
Instructions
1. In a large pot, heat the olive oil. Add the onion and carrots and sauté over medium heat until onion is translucent.
2. Add the cabbage and apple and mix well, then add salt to taste, the garlic, the bay leaf, cloves, wine, vinegar and sugar.
3. Bring to a low boil, cover, and cook for about 1 hour.
4. Remove bay leaf and correct seasoning to taste. You may also add the peeled chestnuts to cook in the braising liquid.
Want more healthy, delicious recipes? Join the Dr. Weil on Healthy Aging online guide for access to hundreds of anti-inflammatory recipes and our exclusive eating guides. Sign up today and get 14 days free!