Sugar-Free Side Effects?
Can sugar-free gum cause diarrhea and other digestive problems?
Andrew Weil, M.D. | June 21, 2018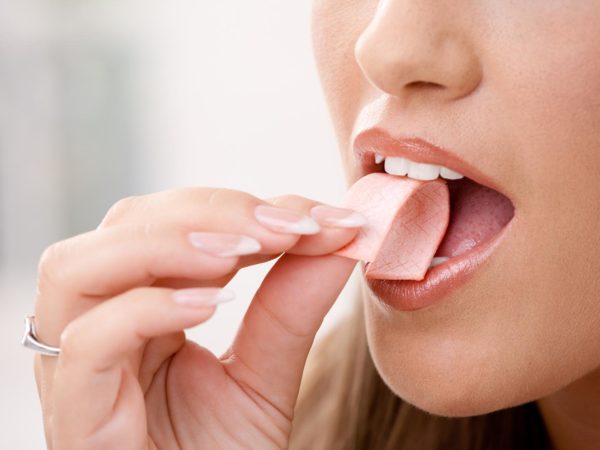 Yes. The sugar alcohols including sorbitol, xylitol, mannitol in sugar-free gum can cause digestive upsets. These natural, low-calorie sweeteners are common ingredients in sugar-free candies, lozenges, and other foods. Unlike artificial sweeteners such as sucralose, saccharin, and aspartame, they do have calories – between 1.5 to three per gram compared to sugar's four calories per gram.
The plus side of sugar alcohols is that they can help you cut down on the sugar in your diet, and unlike sugar, they don't cause tooth decay.
On the minus side, sugar alcohols can cause gas, bloating and diarrhea because they're not completely absorbed by the body and are fermented by bacteria in the large intestine. For this reason, the U.S. Food and Drug Administration requires that products containing 50 grams (nearly two ounces) of the sugar alcohol sorbitol or 20 grams (about 0.7 ounces) of mannitol carry this warning: "Excess consumption may have a laxative effect." Another potential problem: because sugar alcohols aren't calorie-free, consuming a lot of foods containing them can cause weight gain.
Here's a rundown of the various sugar-alcohols you may encounter:
Mannitol: Mannitol is extracted from seaweed for use in foods; it also occurs naturally in pineapples, olives, asparagus, sweet potatoes and carrots. It is 50 to 70 percent as sweet as sugar. Because it remains in the intestines for a long time after consumption, mannitol can lead to bloating and diarrhea.
Sorbitol: Often used in sugar-free gum and candy, sorbitol is found naturally in many fruits and vegetables and is manufactured from corn syrup. It is less likely than mannitol to cause diarrhea but can if consumption exceeds 50 grams (1.76 ounces) per day.
Xylitol: Used in chewing gum, breath mints, diet soda, jams and jellies, gumdrops, hard candies, chocolate, ice cream and cookies, xylitol also may be found in toothpastes, mouthwash, cough syrups and other products. It is as sweet as sugar. Adults can tolerate between 50 to 70 grams per day and healthy children up to 20 grams daily. Higher daily consumption can cause upset stomach, loose stools, abdominal bloating, pain or cramps and excessive gas. With regular use the laxative effect may decrease or disappear in 4 to 5 days.
Lactitol: Found most often in sugar-free ice cream, chocolate, candies, baked goods, and chewing gums, lactitol has about 40 percent the sweetness of sugar. Consumed in large amounts it can cause bloating and diarrhea, although ingesting up to 20 grams (0.71 ounces) a day should not present these problems.
Isomalt: Used in hard candies, toffee, cough drops and lollipops, cereals, fruit spreads, jams and preserves, frozen and smoked fish, isomalt is about 55 percent as sweet as sugar. Consumed in excess it can lead to diarrhea, but most healthy people probably can tolerate at least 50 grams (about 1.76 ounces per day.
Maltitol: Used in sugar-free hard candies, chewing gum, chocolate flavored desserts, baked goods and ice cream, it is produced from wheat, tapioca or corn and is 75 percent as sweet as sugar. Excess consumption can lead to bloating, pain, cramps, excessive gas, loose stools or diarrhea. Most people can tolerate about 100 grams (about 3.5 ounces) per day.
Andrew Weil, M.D.
Source:
H.A. Grabitske and J.L. Slaven, "Gastrointestinal effects of low-digestible carbohydrates." Critical Reviews in Food Science and Nutrition, April 2009, doi: 10.1080/10408390802067126