Countering Toxins From Fish?
Is there a dietary way to reduce or neutralize the toxic effects of ingesting PCBs from farm-raised salmon? Would extra helping of fruits and vegetables be helpful?
Andrew Weil, M.D. | December 8, 2016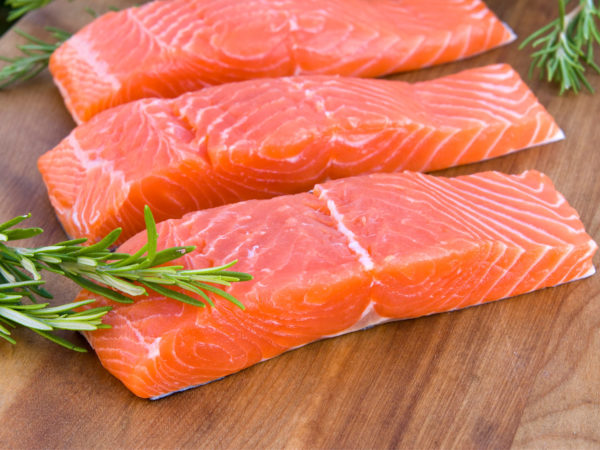 PCBs (polychlorinated biphenyls) are chemicals once widely used as plasticizers in paints, plastics, rubber products and many other industrial applications. Manufacturing of these chemicals was banned in the United States in 1979, but because these compounds don't readily break down, those used in the past are still being released into the environment.
PCBs are believed to increase the risk of certain cancers and to harm the developing brains of fetuses and infants of women who are breastfeeding.
PCBs in farmed salmon come from their feed: fishmeal composed of ground fish and fish oil from a few species of ocean fish. These species accumulate PCBs and other toxins in run-offs from agriculture and industry that end up in oceans. With a limited variety of fish to eat, farmed salmon are exposed to higher concentrations of contaminants than wild salmon that have a more varied diet
In addition to PCBs, mercury in fish is another concern. Dietary selenium can help protect you from its harmful effects. This trace mineral occurs in brewer's yeast, wheat germ, garlic, grains, sunflower seeds, walnuts, raisins, shellfish and fresh and saltwater fish. Brazil nuts are an especially good source. One nut provides about 200 mcg, but the National Institutes of Health warns that they should be eaten only occasionally because you can get too much selenium if you eat a lot of them. If you're not getting sufficient selenium from your diet, you can take a supplement. The RDA for adult men IS 70 mcg and for adult women 55 mcg (65mcg for pregnant women and 75 mcg for those who are lactating. I recommend using an organic form, such as yeast bound selenium or selenomethionine.
Overall, the best thing you can do to reduce the effects of PCBs from farmed salmon on your health is to stop taking them in. Look for organically farmed salmon or use wild Alaskan salmon. All Sockeye salmon is wild, and canned Sockeye is a healthy and inexpensive substitute for pricey fresh wild salmon in fish marketS.
Beyond that, in order to reduce the impact of the PCBs you may have ingested previously, make sure your diet includes antioxidant-rich produce. Tomatoes, watermelon, papayas, blueberries, carrots and leafy greens are good choices, as is green tea. But since it may not always be possible to consume the optimum amounts of antioxidants on a daily basis, I recommend taking a daily multivitamin to help make up for any gaps in your diet.
In addition, be sure to drink plenty of water. Taking an occasional sauna or steam bath can also help rid your body of toxins. You don't need much time in the heat – 10 to 20 minutes is enough to work up a good sweat. Drink even more water when you sweat. (If you have high blood pressure or a heart problem, be sure to check with your physician before going to a sauna or steam room.)
Andrew Weil, M.D.