Is Berberine Really "Nature's Ozempic"?
I've been reading and seeing videos on social media about the supplement berberine being effective for both weight loss and diabetes. Does it work, and is it safe?
Andrew Weil, M.D. | October 2, 2023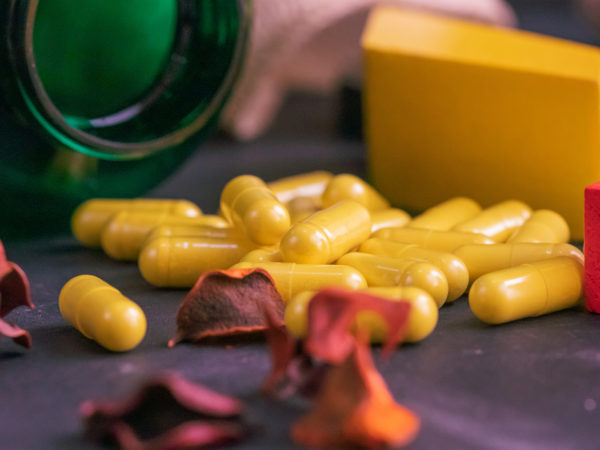 Plants containing berberine have long been used by herbalists. In the past few years, the compound has been promoted as a dietary supplement to help control blood sugar, elevated cholesterol, and high blood pressure. More recently it went viral on TikTok as an inexpensive and natural alternative to semaglutide (sold as brand names Ozempic, Wegovy, and Rybelsus). There is certainly interesting research underway investigating berberine for several different applications, but I would not recommend it as a quick fix for those seeking weight loss.
Semaglutide was developed as a treatment for type 2 diabetes, a metabolic disorder frequently associated with excessive weight and obesity. The drug acts by lowering blood sugar and slowing gastric emptying, which makes you feel full longer. The result is better control of blood sugar, along with weight loss, both of which are excellent results for those with diabetes. News about Ozempic and weight loss led to a heightened demand for the drug, even among those who don't have diabetes but who wanted to slim down. The resulting shortages, along with the high cost of the drug, drove a new online fad touting berberine as "nature's Ozempic."
Berberine occurs naturally in goldenseal, Oregon grape, goldthread, and European barberry, among other plants, and has a different mechanism of action than semaglutide. Berberine has been shown in some studies to help lower blood sugar by activating an enzyme that regulates metabolism. Its possible side effects include diarrhea, upset stomach, and constipation, with a risk that it could cause irritable bowel syndrome.
One 2018 review of berberine studies concluded that the supplement did help with blood glucose control in those with type 2 diabetes, but the effect lessened after 90 days. A 2020 review looked at studies in both animals and humans and found berberine to be promising for both blood sugar control and weight loss; other recent studies have investigated the role of berberine in protecting the heart and brain, and even preventing certain cancers (or increasing the effectiveness of chemotherapy). Although I find all of these to be exciting developments, I would caution anyone against buying berberine online or in the local vitamin shop as a self-prescribed means of losing weight. Berberine should be used under a doctor's supervision when used at all.
In addition, berberine should not be taken by those already on other diabetes or blood pressure medications, since it could lead to dangerously low levels of both. If you take any medications, please talk to your doctor before considering berberine, which has other drug interactions. It also should not be used during pregnancy or while breastfeeding due to serious risks to newborns.
Because some studies have suggested that berberine does lead to weight loss, it has generated considerable interest. Rates of obesity continue to rise, as does the incidence of conditions associated with excess weight, including diabetes, cardiovascular diseases and polycystic ovary syndrome (PCOS). We have a serious need for solutions to this growing problem, so it's understandable that we're looking for a quick fix. I'm not convinced that berberine is that fix – the evidence is just not there.
Please read my guide to type 2 diabetes here if you are interested in effective ways of controlling blood sugar. I also have written about overweight and obesity, and I encourage you to read those guides as well.
Andrew Weil, M.D.
Sources
Liang Y, Xu X, Yin M, Zhang Y, Huang L, Chen R, Ni J. Effects of berberine on blood glucose in patients with type 2 diabetes mellitus: a systematic literature review and a meta-analysis. Endocr J. 2019 Jan 28;66(1):51-63. doi: 10.1507/endocrj.EJ18-0109. Epub 2018 Nov 3. PMID: 30393248. pubmed.ncbi.nlm.nih/30393248/
Ilyas Z, Perna S, Al-Thawadi S, Alalwan TA, Riva A, Petrangolini G, Gasparri C, Infantino V, Peroni G, Rondanelli M. The effect of Berberine on weight loss in order to prevent obesity: A systematic review. Biomed Pharmacother. 2020 Jul;127:110137. doi: 10.1016/j.biopha.2020.110137. Epub 2020 Apr 27. PMID: 32353823. pubmed.ncbi.nlm.nih/32353823/
Rauf A, Abu-Izneid T, Khalil AA, Imran M, Shah ZA, Emran TB, Mitra S, Khan Z, Alhumaydhi FA, Aljohani ASM, Khan I, Rahman MM, Jeandet P, Gondal TA. Berberine as a Potential Anticancer Agent: A Comprehensive Review. Molecules. 2021 Dec 4;26(23):7368. doi: 10.3390/molecules26237368. PMID: 34885950; PMCID: PMC8658774.  pubmed.ncbi.nlm.nih/34885950/
Zhang Z, Zhang H, Li B, Meng X, Wang J, Zhang Y, Yao S, Ma Q, Jin L, Yang J, Wang W, Ning G. Berberine activates thermogenesis in white and brown adipose tissue. Nat Commun. 2014 Nov 25;5:5493. doi: 10.1038/ncomms6493. PMID: 25423280. pubmed.ncbi.nlm.nih/25423280/
Kakoly NS, Khomami MB, Joham AE, Cooray SD, Misso ML, Norman RJ, Harrison CL, Ranasinha S, Teede HJ, Moran LJ. Ethnicity, obesity and the prevalence of impaired glucose tolerance and type 2 diabetes in PCOS: a systematic review and meta-regression. Hum Reprod Update. 2018 Jul 1;24(4):455-467. doi: 10.1093/humupd/dmy007. PMID: 29590375. pubmed.ncbi.nlm.nih/29590375/