Is Fasted Cardio Safe, And Is It Effective For Weight Loss?
Can I lose more weight if I exercise on an empty stomach?
Andrew Weil, M.D. | December 3, 2021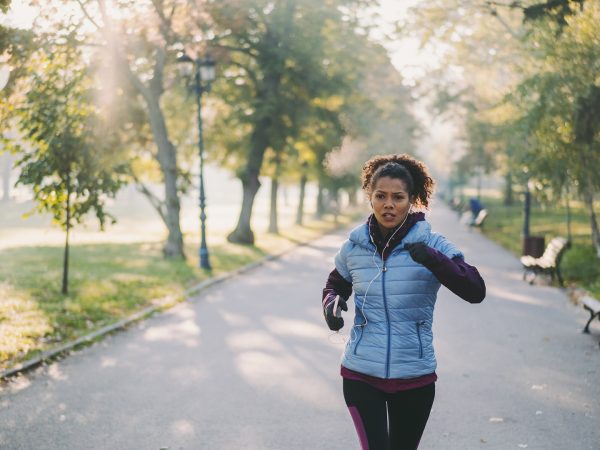 Fasted cardio – meaning exercising during a fasting state, typically first thing in the morning before eating – has been touted as a way to lose weight more efficiently. The theory is that your body will be required to burn stored energy (fat) if you exercise when there is no short-term energy (from carbohydrates) available. Although that sounds reasonable, the evidence is weak that fasted cardio increases fat burning — and there is some concern that it may promote muscle loss.
The concept of fasted cardio originated with bodybuilders and athletes and has spread to a wider audience of those seeking novel weight-loss strategies. It seems to make sense, since we consume calories from carbohydrates, fats, and protein, and we expend calories from those same categories, usually in that order. The body knows to get its energy first from available carbohydrates, which are easy to convert, then from fat, which takes more work. Only then does it turn to protein, which is used to build muscle and is more difficult to convert back to usable energy.
But metabolism is complicated, and so is weight loss. Energy expenditures during exercise depend on the body composition and fitness levels of the person exercising, the duration of the exercise, and the intensity. Prolonged exercise in a fasting state can be mistaken for starvation – and in reaction to that the body breaks down muscle to survive. Elite athletes in particular need to consume much more protein than non-athletes to protect their muscle mass.
For those of us who aren't professional athletes or bodybuilders, could fasted cardio help burn fat faster? One study of 16 overweight and obese women compared results after six weeks in those who exercised after a long period without eating and those who performed the same workout after eating. After 18 sessions of high-intensity interval training (HIIT), both groups showed benefits, but there was no difference between the two in any variable measured.
Another study compared two groups of young women who were following a low-calorie diet, half of whom were assigned to exercise first thing in the morning after fasting and the other half of whom had a meal before exercising. Both groups did an hour of aerobic exercise three days a week for four weeks. Both groups lost weight and showed a decrease in fat mass, but the study found no difference between the groups based on whether they had exercised in a fasted state or not.
There is good evidence that HIIT (high intensity interval training) and its variants that combine short bursts of intense exercise with brief rest periods are very effective ways to work out and burn calories, without the risk of muscle loss. I recommend those methods over fasted cardio as a healthy approach to exercising for weight control.  Find out more about HIIT here, and watch this video about it.
Andrew Weil, M.D.
Sources:
Schoenfeld, Brad Jon et al. "Body composition changes associated with fasted versus non-fasted aerobic exercise." Journal of the International Society of Sports Nutrition vol. 11,1 54. 18 Nov. 2014, doi:10.1186/s12970-014-0054-7 https://www.ncbi.nlm.nih.gov/pmc/articles/PMC4242477/
Schoenfeld, Brad MS, CSCS Does Cardio After an Overnight Fast Maximize Fat Loss?, Strength and Conditioning Journal: February 2011 – Volume 33 – Issue 1 – p 23-25 doi: 10.1519/SSC.0b013e31820396ec https://journals.lww.com/nsca-scj/Fulltext/2011/02000/Does_Cardio_After_an_Overnight_Fast_Maximize_Fat.3.aspx
Lemon PW, Mullin JP. Effect of initial muscle glycogen levels on protein catabolism during exercise. J Appl Physiol Respir Environ Exerc Physiol. 1980 Apr;48(4):624-9. doi: 10.1152/jappl.1980.48.4.624. PMID: 7380688. https://pubmed.ncbi.nlm.nih.gov/7380688/
Gillen JB, Percival ME, Ludzki A, Tarnopolsky MA, Gibala MJ. Interval training in the fed or fasted state improves body composition and muscle oxidative capacity in overweight women. Obesity (Silver Spring). 2013 Nov;21(11):2249-55. doi: 10.1002/oby.20379. Epub 2013 May 31. PMID: 23723099. https://pubmed.ncbi.nlm.nih.gov/23723099/
Mizugaki A, Kato H, Suzuki H, Kurihara H, Ogita F. Nutritional Practice and Nitrogen Balance in Elite Japanese Swimmers during a Training Camp. Sports (Basel). 2021 Jan 21;9(2):17. doi: 10.3390/sports9020017. PMID: 33494249; PMCID: PMC7909811. https://pubmed.ncbi.nlm.nih.gov/33494249/