Choosing Comfort Food?
Is there anything that you consider a healthy comfort food? Mine are all distinctly unhealthy – and irresistible.
Andrew Weil, M.D. | April 19, 2007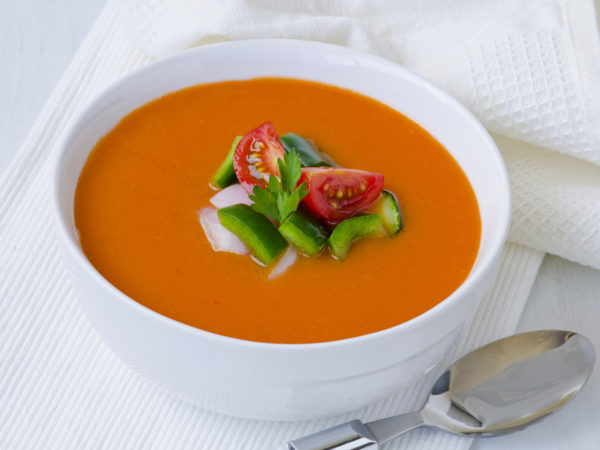 Comfort foods are very personal, and there's some evidence that men and women differ markedly in their choices. A national survey conducted in 2003 by the Food and Brand Lab at the University of Illinois at Urbana-Champaign found that when men seek psychological comfort from food, they gravitate toward dishes their mothers made for them, such as mashed potatoes, pasta, meat, and soup, while women seek out less labor-intensive foods such as chocolate, candy, and ice cream. Interestingly, this survey found that people are most likely to seek out comfort foods when they're in good spirits or want to reward themselves, rather than when they're stressed, sad or lonely. But there's also some thought that mood may govern these preferences- people go for pizza when they feel happy, cookies when sad, and chips when bored.
To my mind, three of the soup recipes on this site qualify as healthy comfort foods. One is Creamy Tomato Soup. Many people consider tomato soup a comfort food, but this one is special because it is nutritious and wholesome, particularly when prepared with soy milk or nut milk. Another, Roasted Vegetable Soup, can be served by itself or used as a base for other soups. You oven roast the vegetables before adding them to a stock, enhancing their flavors. And Miso Soup, a Japanese staple is healthful, delicious, and easy to make. Miso, a paste made from fermented soybeans, is full of antioxidants and other protective nutrients.
If your idea of comfort food is chocolate, indulge in some quality dark chocolate (look for a good imported chocolate that contains at least 70 percent cocoa). Chocolate contains polyphenols, the same kinds of antioxidants found in red wine and green tea; stearic acid, a type of fat that doesn't raise cholesterol levels; and flavonoids, which reduce the stickiness of platelets, inhibiting blood clotting and reducing the danger of coronary artery blockages. For the sake of calorie-control, try to limit your chocolate "comfort" to an ounce several times a week. If you need "crunch" for comfort, opt for a small handful of raw, unsalted nuts – pistachios, almonds, cashews, or walnuts. While nuts are high in fat, most of them contain monounsaturated fat that is good for the heart as well as fiber and vitamin E. Eaten in moderation, nuts can lower your risk of heart disease and heart attacks.
Andrew Weil, M.D.