Set Your Day Up For Success: 6 Things To Try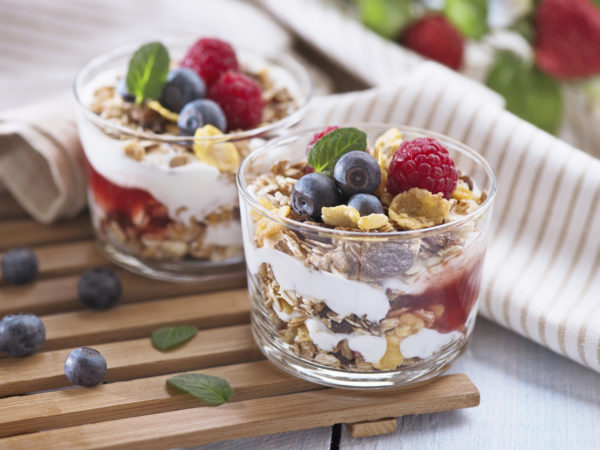 When planning your grocery list for this week's meals, spend time focusing on the first meal of the day! It's easy to eat right in the morning: the ideal breakfast should provide one quarter to one third of your day's protein, a fair amount of fiber (as found in low-glycemic carbohydrates) and some healthy fat. Here are some quick, healthful ideas on food to buy:
Canned, wild Alaskan salmon. The traditional Japanese breakfast features broiled fish, steamed rice, pickled vegetables and green tea. Using canned, wild Alaskan salmon along with leftover rice and vegetables makes this a quick meal.
Granola and yogurt. Choose granola or make one that's high in fiber and low in sugar or other sweeteners, and opt for full-fat plain Greek yogurt, some organic berries and walnuts. If you are trying to keep your sugar and carbohydrate intake down, skip the granola and opt for just berries and nuts.
Eggs. Keep some hardboiled eggs (choose free-range, omega-3 fortified eggs) on hand to eat with a dash of salt and pepper or with sprouted grain toast. Include a piece of fruit like an orange or grapefruit and a serving of plain, unsweetened yogurt.
Dark, leafy greens. Spinach, kale and other dark, leafy greens are a nutritious addition to any breakfast – use with your eggs to create a vegetable scramble. These nutrition powerhouses can be easily added to smoothies without altering the taste.
Berries. Choose organic blueberries or raspberries for their fiber and antioxidants – add to your yogurt or top steel-cut oatmeal with a handful. Frozen varieties also work well to thicken morning smoothies with protein powder without the watering down effect of ice.
Coffee or green tea. Coffee is a good source of antioxidants, and research has linked coffee to a decreased risk of type 2 diabetes as well as improved mental health as you age. I suggest finding an organic or fair-trade version. If coffee causes you side effects such as anxiety, tremors or irritation of the digestive system, try organic green tea – it is a very healthy, lower caffeine alternative. Avoid the sweetened, fake creamers that contain inflammatory hydrogenated oils and a variety of sweeteners. If needed, lighten with unsweetened almond or cashew milk.
Today's Health Topics
Editor's Pick
Health Focus
Ask Dr. Weil's Q&A
sponsor
Visit Our Origins Shop!
Dr. Weil believes inflammation is the root cause of visible skin concerns like irritation. He also believes mushrooms have the power to fight irritation. That's why he partnered with Origins to create these Mega-Mushroom Formulas.