How To Restore Aging Muscles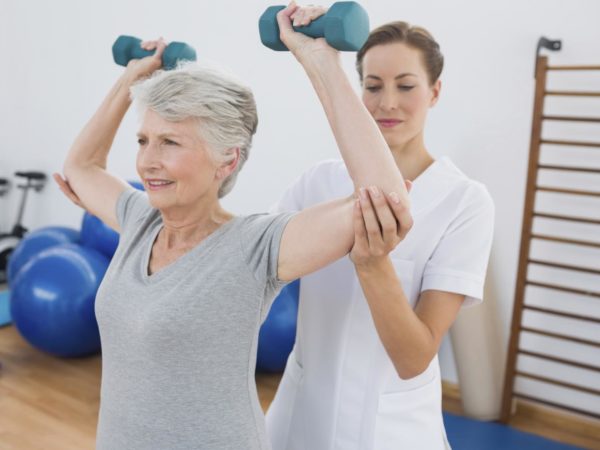 The ability to build muscle strength with weight training has been well demonstrated, but a new study from the Mayo Clinic suggests that it is possible to correct age-related muscle decline at the cellular level with high intensity interval training (HIIT). Researchers recruited a group young people age 18 to 30 and a second group of seniors between 65 and 80. They then divided the 72 participants into 3 exercise groups: one group performed HIIT training on stationary bikes, alternating high intensity pedaling for 4 minutes with pedaling at low intensity for three minutes and then repeating the sequence three more times. A second group worked out with weights twice a week, and the third biked and lifted weights five days a week but at a less intense pace than those in the other two groups. After three months of following these routines, the researchers found that weight lifting built muscle mass and improved strength as expected, but that HIIT actually reversed the age-related decline of the participants' muscle-building proteins, and increased the capacity of mitochondria, the cellular structures that produce energy. The study found that this change was most striking among the seniors in the study who performed HIIT. If you have to choose one exercise routine, study leader Sreekumaran Nair, M.D., Ph.D., recommended high intensity interval training three to four days a week, in addition to two days of strength training.
Source:
Sreekumaran Nair et al, "Enhanced Protein Translation Underlies Improved Metabolic and Physical Adaptations to Different Exercise Training Modes in Young and Old Humans." Cell Metabolism, March 2017, doi: dx.doi.org/10.1016/j.cmet.2017.02.009
Also in this week's bulletin:
Interested in expanding your knowledge on the latest in nutrition, healthful living and integrative medicine from internationally recognized experts including Andrew Weil, M.D., Donald Abrams, M.D., Victoria Maizes, M.D., Clint Woods, and more? Learn more about the 14th annual Nutrition Conference, Nutrition & Health: State of the Science and Clinical Applications, held May 1-3, 2017, at the Arizona Biltmore Hotel in Phoenix, Arizona.