Dr. Weil Events
Dr. Weil on the Dr. Oz Show 10-12-2012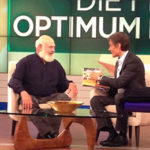 On October 12th, 2012, on an episode of The Dr. Oz Show titled "Andrew Weil's Anti-Inflammatory Diet for Optimum Health," Drs. Weil and Mehmet Oz enjoyed a lively discussion with each other and the audience. Dr. Weil emphasized that, unlike most healthy food regimes, his requires no sacrifices in flavor.
To prove the point, he made dishes from his new cookbook: True Food: Seasonal, Sustainable, Simple, Pure, for Dr. Oz and the appreciative audience. Based on the recipes of Dr. Weil's popular True Food Kitchen restaurants, the cookbook uses fresh, pure, simple ingredients to create "delicious food that happens to be good for you."
Video clips from the program:
Anti-Inflammatory Diet || 5 Essential Foods || Curried Cauliflower Soup
Here's more information from Dr. Weil on the health topics they discussed:
Dr. Weil's new cookbook – True Food: Seasonal. Sustainable, Simple, Pure
All about True Food Kitchen (the restaurants)
Chronic, Whole-Body Inflammation
Dr. Weil's Anti-Inflammatory Diet
The Anti-Inflammatory Food Pyramid
Dr. Weil's Favorite Anti-Inflammatory Foods
Five important anti-inflammatory ingredients:
Carotenoid

-rich and

colorful fruits & veggies

Oils containing polyphenols (such as

extra virgin olive oil

)

Fish and seafood

(black cod, in particular)

Anti-inflammatory herbs and spices
Sea Buckthorn:
Supplements:
Learn more about the Arizona Center For Integrative Medicine, at the University of Arizona, Tucson.