Dr. Weil's Senate Testimony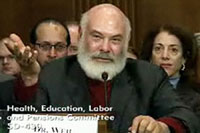 February 26, 2009: Integrative Care: A Pathway to a Healthier Nation
Integrative medicine physicians "can be a powerful counterweight" to the forces that are making Americans among the least healthy people in the developed world, Andrew Weil, M.D., told a U.S. Senate committee on Thursday, Feb. 26. Both medical care and food can be cheaper and better, he said, and the national economic crisis offers a rare opportunity to make that happen. The crucial first step is education changes at all levels, from kindergarten to medical school.
"Education is really the key" he said.
Dr. Weil, Director of the Arizona Center for Integrative Medicine at the University of Arizona in Tucson, Ariz., was one of four prominent American physicians summoned to give their views at a hearing titled "Integrative Care: A Pathway to a Healthier Nation" before the Senate Committee on Health, Education, Labor and Pensions. Also on the panel were Mehmet Oz, M.D., Director, Cardiovascular Institute and Complementary Medicine Program, New York-Presbyterian Hospital, New York, NY; Mark Hyman, M.D., Founder and Medical Director, The UltraWellness Center, Lenox, Mass.; and Dean Ornish, M.D., Founder and President, Preventive Medicine Research Institute, Sausalito, Calif.
In oral and written statements, Dr. Weil emphasized that integrative medicine "must be a key part of American health care reform."
Why? While Americans now spend far more than citizens of any other country in the developed world for health care, by virtually every measure of health outcomes – longevity, infant mortality, fitness, and rates of chronic disease – we are near or at the bottom compared to other developed countries. "We are paying more and more for health care, and have less and less to show for it," Dr. Weil said.
The reason? We do not have a "health care" system aimed at preventing illness, but rather, as he put it, a "disease management system" that overemphasizes drugs and surgery after the patient becomes ill, because that is where profit potential is greatest. Simple, effective, low-cost lifestyle changes such as improved diet, low-impact exercise, stress reduction and other such measures have been proven as or more effective than drugs and surgery for both prevention and treatment for many patients. Yet these are routinely discounted by physicians, largely because modern medical-school education remains woefully deficient in teaching such subjects.
Dr. Weil said integrative medicine training for physicians, which emphasizes diet and lifestyle changes, is already gaining momentum, with 42 medical schools now offering programs. Federal mandates, he said, will serve only to speed a natural evolution toward the widespread adoption of integrative medicine that's already underway. The University of Arizona, he said, was well positioned to lead medical school reform nationwide.
In the wide-ranging discussion, the physicians on the panel also lamented the sorry state of American nutrition. "There are now 70 million Americans with fatty liver, and that's something I did not see in my training just 20 years ago," noted Dr. Hyman. One reason: consumption of high-fructose corn syrup has jumped from "almost none" in 1980 to 66 pounds annually per American today.
"It's so discouraging" that Americans are exporting unhealthy food choices to the rest of the world," said Dr. Weil, noting that American-style fast food was quickly shortening life spans in Okinawa, a culture that until recently produced the longest-lived people in the world.
"We are globalizing chronic disease," said Dr. Ornish.
Committee chair Senator Tom Harkin, an Iowa Democrat, pointed out that Americans, including children, will adopt healthy habits if they are simply given a chance. After a federal pilot program made free fruits and vegetables available in 100 grade schools in 2003, "I saw third grade kids eating fresh spinach, carrots and broccoli," Harkin said. "Teachers told me, some of these kids have never had a fresh orange in their lives."
Dr. Weil emphasized that nutritionally trained physicians should be part of U.S. farm-bill creation from now on (the farm bill is the Federal government's major agricultural policy tool). "Not until last year was there an effort to have the health care community give input' on the bill," he said.
All four physicians on the panel emphatically offered their services to help re-craft federal policy along integrative medicine principles.
While this hearing was exploratory in nature, Senator Harkin made it clear that he would involve the panel physicians and their organizations in the coming months in specific health-care reform efforts, including drafting new legislation.
"I am just so grateful to you all. You are my heroes," he said. "I keep thinking to myself, 'My god, why don't people get this?' We need you badly, and want you to be involved."