Dr. Weil Events
Dr. Weil on the Dr. Oz Show 09-21-2011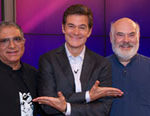 On September 21, 2011, Drs. Weil, Deepak Chopra and Mehmet Oz discussed natural health, mind-body therapies, herbs and supplements, inflammation, Alzheimer's disease, and more on The Dr. Oz Show. Click the links below for more detailed information from Dr. Weil on some of the topics discussed:
Watch the video clips:
Holistic Prevention Guide, Part 1
Holistic Prevention Guide, Part 2
Holistic Prevention Guide, Part 3
How to Reduce Stress, Part 1
How to Reduce Stress, Part 1
Backstage with Drs. Weil and Chopra: 3 Rules to Live By
Healthy Cooking & The Anti-Inflammatory Diet:
Cooking to Fight Inflammation (AGEs formed during cooking)
Dr. Weil's Anti-Inflammatory Food Pyramid
The Anti-Inflammatory Diet
Is Steaming or Boiling Better?
Cooking Sous Vide: French Fast Food?
Dr. Weil's Favorite Anti-Inflammatory Foods
Roasted Winter Squash & Apple Soup
Health Concerns:
Cancer: The Lifestyle Connection
Alzheimer's Disease
Migraine Treatment
Premenstrual Syndrome (PMS)
Bronchitis: Treating a Cough
Indigestion
Lifestyle:
Overcoming the Sunday Night Blues
Alarm Clocks: Alarmed in the A.M.
Breathing Exercises – The 4-7-8 Breath
Herbs & Supplements:
Anti-Inflammatory Herbs: Can Herbs Combat Inflammation?
Vitamin E
Ginkgo biloba
Phosphatidyl Serine (PS) for sharpening the memory?
Ginger
Turmeric
Holy Basil for Stress
Deglycyrrhizinated licorice (DGL)
Oregano Oil
Black Currant Oil
Raspberry Leaf Tea
Learn more about the Arizona Center for Integrative Medicine.