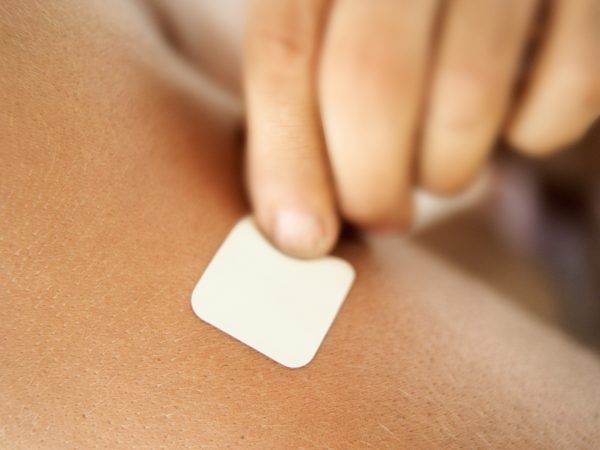 Vitamin patches are trendy, but there's little evidence to support their use as alternatives to oral vitamin supplements. Sold under names like PatchMD and PatchAid, these products are adhesive patches that you stick on your skin. According to their manufacturers,  the contents of the patch — which can include everything from vitamins and minerals to herbs and other compounds — are then absorbed by your body.
These products are loosely based on the transdermal patches used medically, and the concept that some substances can have systemic effects when applied topically. Transdermal drug products have been routinely in use since 1979, when the U.S. Food and Drug Administration (FDA) approved a patch containing the drug scopolamine to treat motion sickness.
Since then, the FDA has approved other transdermal patches, including ones that contain the anti-hypertensive drug clonidine, the painkiller fentanyl, and hormones such as testosterone or estradiol. Transdermal patches containing nicotine are also available as a tool to help people quit smoking.
Rather than medication, vitamin patches contain various compounds meant to improve health and well-being. For instance, you can find patches being marketed with claims of improving sleep, immunity, joint pain, menopausal symptoms, weight loss, and even hangovers.
The benefit of such patches is supposed to be their ease of use — simply applying a patch to your arm has a "quick fix" appeal for some people, especially those who don't like taking pills. Vitamin patches also promise "long-lasting" results; presumably, you could apply a patch aimed at improving sleep and leave it on all night.
But there are other differences between vitamin patches and transdermal drug patches beyond just their ingredients. First, the research to support the use of vitamin patches is still in its early stages. Some studies are looking at the effectiveness of vitamin patches for people who have undergone bariatric weight loss surgery, a procedure that can make it difficult to absorb nutrients by mouth. However, the results have not been promising. For instance, one small review published in 2019 looked at how people who underwent laparoscopic Roux-en-Y gastric bypass surgery responded to either a multivitamin patch or pill. The researchers found that 81 percent of patients who used the patches experienced a deficiency in vitamin D, compared with just 36 percent who took oral supplements. Those using patches also had lower blood levels of vitamins B1 and B12, suggesting that some nutrients may not be well absorbed through the skin.
In addition, vitamin patches seem to fall in a gray area when it comes to the FDA; the agency doesn't appear to consider them dietary supplements or drug delivery systems, and they remain unregulated. Although there's no evidence that vitamin patches are harmful, I'm not convinced that there's enough clinical evidence to show that they are helpful either. I'd save your money.
 Andrew Weil, M.D.
Source:
Sarah Baird, "Buying vitamin patches to lose weight? Experts say you're probably wasting your money," The Washington Post, September 4, 2018.
www.washingtonpost.com/lifestyle/wellness/can-vitamin-patches-help-you-gain-focus-lose-weight-or-sleep-experts-are-skeptical/2018/09/03/250cdc7c-aa36-11e8-b1da-ff7faa680710_story.html