Are There Side Effects To Creatine?
I see creatine in a lot of pre-workout formulas and protein powders — should I be concerned?
Andrew Weil, M.D. | May 5, 2022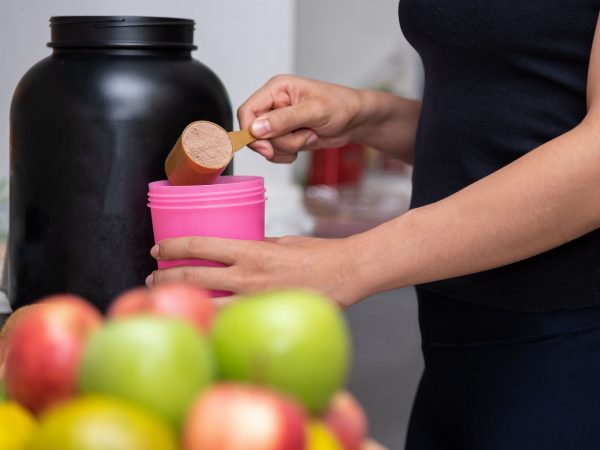 Creatine is an amino acid derivative that our body makes; we also get it from protein-rich foods like red meat and fish. It gets stored in our muscles, and we use it when we need a quick burst of energy and strength. It's a favorite supplement of athletes who want a boost for short-term, high-intensity activities including sprinting, weight-lifting, or swimming. Creatine is generally considered safe when taken at recommended doses, with only a small risk of side effects.
The most common side effects, when they do occur, include weight gain, muscle cramps, muscle strains and pulls, stomach upset, diarrhea, and dizziness. There is some risk that creatine may interfere with prescribed medications such as statins, diuretics (water pills), or drugs used to control blood sugar. There has also been some concern that creatine use may increase the risk of kidney damage, since elevated levels of creatine in the blood are associated with kidney malfunction. A 2019 review in the Journal of Renal Nutrition, the official publication of the Council on Renal Nutrition of the National Kidney Foundation, did not find that taking creatine supplements had any effect on kidney function. Still, I would caution anyone who takes Tagamet or ibuprofen, or any other medication known to affect the kidneys, not to take creatine.
The International Society of Sports Nutrition has reviewed the scientific findings on creatine and has concluded that the supplement not only improves athletic performance but has other benefits as well, including injury prevention. In a 2017 position paper, the society confirmed that taking up to 30 g/day for five years is safe in any healthy individual.
Creatine supplements may be especially beneficial for vegetarians, who don't get creatine from animal protein in the diet. A 2020 review found that taking creatine increased lean muscle mass and improved muscle strength, endurance, and even brain function in vegetarians. The evidence was mixed about whether creatine could provide a bigger exercise boost to vegetarians than it does to non-vegetarians.
If you supplement with creatine, I recommend taking it with fruits, fruit juice, or starches which will help with absorption. See Counting on Creatine for more information.
Andrew Weil, M.D.
Sources:
Kaviani M, Shaw K, Chilibeck PD. Benefits of Creatine Supplementation for Vegetarians Compared to Omnivorous Athletes: A Systematic Review. Int J Environ Res Public Health. 2020 Apr 27;17(9):3041. doi: 10.3390/ijerph17093041. PMID: 32349356; PMCID: PMC7246861. https://pubmed.ncbi.nlm.nih.gov/32349356/
de Souza E Silva A, Pertille A, Reis Barbosa CG, Aparecida de Oliveira Silva J, de Jesus DV, Ribeiro AGSV, Baganha RJ, de Oliveira JJ. Effects of Creatine Supplementation on Renal Function: A Systematic Review and Meta-Analysis. J Ren Nutr. 2019 Nov;29(6):480-489. doi: 10.1053/j.jrn.2019.05.004. Epub 2019 Jul 30. PMID: 31375416. https://pubmed.ncbi.nlm.nih.gov/31375416/
Kreider, R.B., Kalman, D.S., Antonio, J. et al. International Society of Sports Nutrition position stand: safety and efficacy of creatine supplementation in exercise, sport, and medicine. J Int Soc Sports Nutr 14, 18 (2017). https://doi.org/10.1186/s12970-017-0173-z
https://jissn.biomedcentral.com/articles/10.1186/s12970-017-0173-z