Are Resistance Bands Safer Than Free Weight Training?
Are resistance bands a better bet than free weights in terms of safety and effectiveness?
Andrew Weil, M.D. | July 20, 2021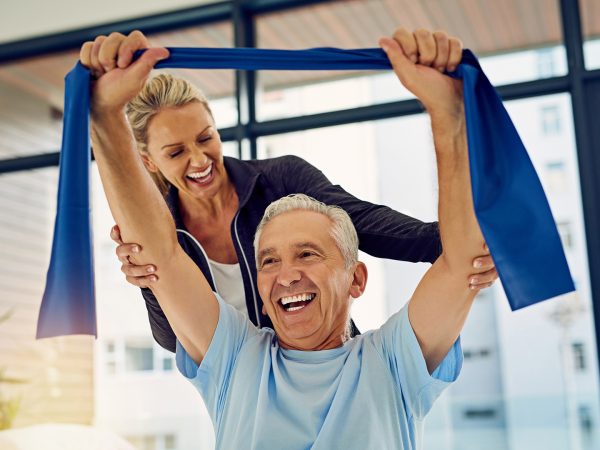 Resistance bands can be an effective alternative to free weights, but you'll still need to take safety precautions. Also known as exercise bands, resistance bands were originally made of surgical tubing. Today, you can find several different types of them, from tubing with interchangeable handles to flat loops that resemble giant elastic bands. Typically made of latex or rubber, they offer various levels of resistance, which you can usually determine from their size. The higher the tension in a band, the more strength you'll need to stretch it. Some resistance bands are also color coded to represent their tension, which should be tailored for the particular activity. (You would need more tension when using a band for a chest press exercise than you would when using one for a biceps curl.)
Resistance bands have a number of advantages over equipment like iron weights— some of which became more obvious during the COVID-19 pandemic, when lockdowns forced many people to work out at home. They can be great for small spaces, since they are easy to store and take up less room than a set of free weights.
Resistance bands are also versatile: You can perform countless exercises with them, simply by using them in different ways to change the tension. For a squat exercise, you might stand on the band, holding the ends. For a rowing exercise, you might sit down, stretch out your legs, and wrap the band around the soles of your feet, holding both ends. Most people should be able to get as strenuous a strength-training workout from resistance bands as they would from free weights. What's more, resistance bands are relatively inexpensive. You'll likely pay less for a set than you would for dumbbells in various weights.
When used properly, resistance bands tend to be safe. In fact, they are used in nursing homes to help elderly or infirm people stay active and maintain muscle strength. That said, resistance bands — just like free weights — aren't without risks. Your grip on them should be tight to prevent them from snapping back. According to the American Academy of Ophthalmology, recoiling or snapping resistance bands are a common cause of serious eye injuries, including detached retinas.
Likewise, when a band breaks under tension it can release a lot of energy, so you'll also want to make sure the bands you're using are in good shape, free of wear and tear. Just as you would when using free weights, wear sturdy shoes when you use resistance bands. Yes, you won't risk dropping a dumbbell on your foot, but some exercises call for you to stand on the bands so you'll need to be stable. Finally, certain exercises require you to wrap the resistance band around an object or attach it to a door. Wind your band around something stable, such as a column or post, rather than a chair or table leg. And you can purchase attachments to safely anchor a band to a door for less than $10.
Andrew Weil, M.D.
Source:
American Academy of Ophthalmology, "Exercise Band Causes Blinding Eye Injury," September 7, 2018. aao/eye-health/tips-prevention/exercise-band-causes-blinding-eye-injury