Weight Training For Anxiety?
I've been told that regular weight training can help reduce anxiety. Could this be true?
Andrew Weil, M.D. | December 7, 2020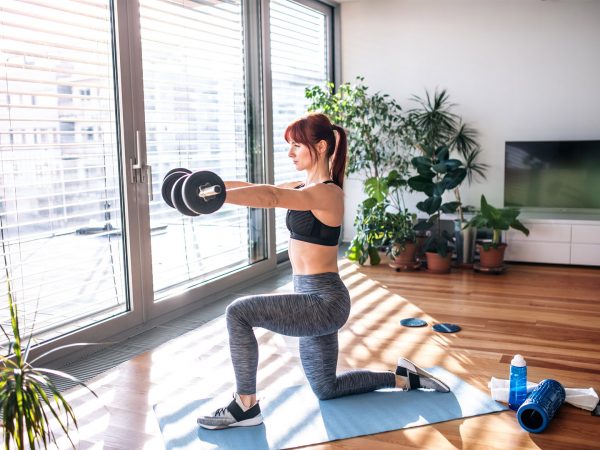 Apparently so, at least according to a new study that looked at the effects of weight training on mental health. That investigation, from the University of Limerick in Ireland, was designed to determine whether weight training could affect the moods of 28 young people whose mental health was deemed to be good. The volunteers were divided into two groups – half began weight training, while the others continued with their normal lives. After initial instructions on how to perform exercises such as lunges, lifts, squats and crunches (including using dumbbells and other equipment), those who took up weight training worked out twice a week for eight weeks.
After the eight weeks, those in the exercise group were about 20 percent less anxious than they had been at the study's start, even though they hadn't been particularly anxious then. Participants in the group that didn't work out hadn't been anxious when the study began and remained that way afterward.
The effect on anxiety among the study participants who exercised was larger than anticipated, reported study co-author Brett Gordon, Ph.D., a postdoctoral scholar at the Penn State College of Medicine. He noted that the overall benefits for mental health were greater than those often seen in studies of aerobic exercise for anxiety reduction. Studies elsewhere have found that people who lift weights are less likely to develop depression than those who don't normally engage in this type of exercise. And one study found that women with anxiety disorders reported having fewer symptoms after beginning weight training or aerobic exercise. However, we don't know if this approach to easing anxiety will work for older people or how much weight training is needed.
Many people rely on various forms of exercise as their primary strategy for reducing stress and promoting relaxation. One of the benefits of regular aerobic exercise is its moderating effect on emotions. Although this is a long-term benefit, it can also work in acute situations as a symptomatic treatment. If you feel angry or upset, a brisk walk or run or a half hour of lifting weights often will restore your good mood.
While exercise is a great way to burn up excess energy, it does not teach you how to process stress differently. For that reason, I don't recommend it as your sole method of relaxation, but as a complement to another technique, such as breathing, visualization or yoga (which is an excellent way to relax as well as an effective form of nonaerobic body conditioning).
Andrew Weil, M.D.
Source:
Bret R. Gordon et al, "Resistance exercise training for anxiety and worry symptoms among young adults: a randomized controlled trial," Scientific Reports, October 16, 2020