Lift Weights To Tame Anxiety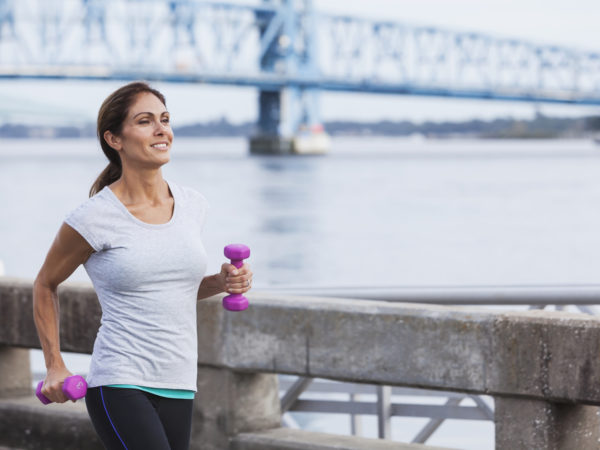 Resistance training – weight lifting – is known for building muscle strength, but new research suggests it also appears to help reduce anxiety, and perhaps as effectively as medication or psychotherapy. This finding comes from a recent analysis that reviewed the results of 16 previously published studies involving 922 participants, 68 percent of them women, who were randomly assigned to work out or be inactive. Those who exercised engaged in resistance training 2 to 5 days a week for an average of 11 weeks, and reported significant reductions in anxiety symptoms Lead researcher Brett Gordon of Ireland's University of Limerick reported that the lessening of anxiety symptoms observed occurred whether or not participants were diagnosed with a mental health disorder, though he noted the positive effects were more pronounced in healthy people who hadn't reported any physical or psychological problems. He added that while the benefits of exercise training on mental health are well established, most of this knowledge has been based on studies involving aerobic exercise.
My take? Resistance training is an essential part of any exercise program – the other elements are aerobic exercise for cardiovascular fitness and weight control, in addition to balance training and stretching to promote flexibility. The object of resistance training is to help maintain the fitness of your body's major muscle groups, strengthen and tone your muscles, burn calories and increase the density of your bones. I'm happy to hear that it may also pay off by helping to improve mood. Bear in mind that you can also effectively address anxiety by regularly practicing simple breathing exercises, which can be both calming and energizing and can even help with stress-related health problems ranging from panic attacks to digestive disorders. 
Source:
Brett Gordon et al, "The Effects of Resistance Exercise Training on Anxiety: A Meta-Analysis and Meta-Regression Analysis of Randomized Controlled Trials." Sports Medicine, Augusts 17, 2017, doi: 10.1007/s40279-017-0769-0
Also in this week's bulletin: