A Cruise Of The Greek Isles With Dr. Weil, October 2018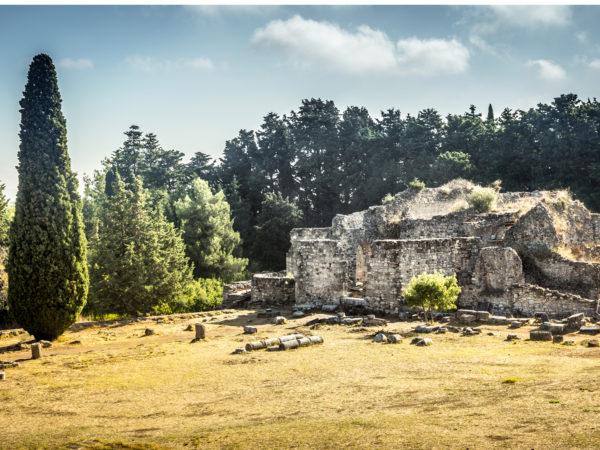 In October 2018 we sailed the Mediterranean Sea on a lovely 14-day "Origins of Wellness Cruise" onboard the Seabourn Odyssey. We took in the sights, scenes and delicious local cuisines along the southern coast of Greece – including Mykonos, Crete, Naxos, and Rhodes, as well as Syracuse, Italy; and Valletta, Malta.
We ended the voyage with an exceptional visit to Asklepion, an archeological site on the island of Kos at the sanctuary of Asclepius, the god of medicine. The well-known Greek physician, Hippocrates (the father of medicine) founded the Kos School of Medicine at this site.
This area is very special to me as it is the region where integrative medicine is rooted. It is said that the treatments offered at this sanctuary, or early version of a hospital were based on a healthy lifestyle; including water therapies like swimming, physical activity, a healthy diet, relaxation therapies, nature therapy, and a focus on recreation. Practitioners here are said to have used natural, herbal medicine and simple interventions – both are part of today's principles of integrative medicine. This wellness cruise was an exciting adventure!
The wellness cruise program included many events, workshops and casual discussions with me and other top experts all trained in the field of integrative medicine:
Victoria Maizes, M.D., is executive director of the Arizona Center for Integrative Medicine and a professor of medicine, family medicine and public health at the University of Arizona. She is a graduate of Barnard College, and received her medical degree from the University of California, San Francisco, completed her residency in family medicine at the University of Missouri, Columbia, and her fellowship in integrative medicine at the University of Arizona College of Medicine.
Ann Marie Chiasson, M.D., MPH, is the co-director of the fellowship in integrative medicine at the Arizona Center for Integrative Medicine in Tucson, Arizona. She is board-certified in family medicine and integrative medicine and completed a master's degree in public health from the Johns Hopkins Bloomberg School of Public Health.
Vivian A. Kominos, M.D., FACC received her medical degree from St. Louis University School of Medicine and completed her internal medicine residency and cardiology fellowship at Robert Wood Johnson University Hospital. She is board certified in internal medicine, cardiology and integrative medicine.
Gulshan K. Sethi, M.D., graduated from the All India Institute of Medical Sciences, New Delhi, India in 1963. He did an internship at the Norwalk Hospital (Yale affiliate), residency in general surgery at the Presbyterian St. Luke's Hospital in Chicago and University of Kansas. He completed his cardiothoracic and vascular surgery fellowship in 1972 from the University of Utah.
William Haas, M.D., earned both his medical and business degrees from East Carolina University, one of the nation's top primary-care training programs. He is board-certified in family medicine and attended the University of Arizona for his integrative medicine fellowship, where he later served on faculty. In addition to his integrative medicine training, Dr. Haas is a candidate for certification with the Institute for Functional Medicine.