Fish Oil For Healthier Sperm?
Should men take fish oil to help increase their sperm count? I read that this may make men more fertile.
Andrew Weil, M.D. | March 17, 2020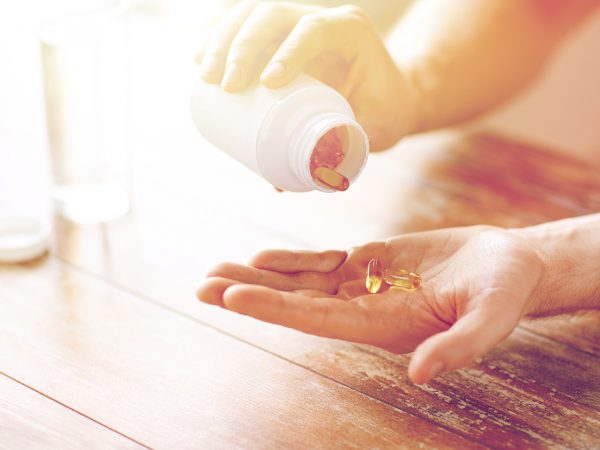 The connection between supplemental fish oil and sperm quality was first noted in a Danish study published in January 2020. It found that young men, average age 19, who took fish oil supplements for at least 60 days out of the previous three months had higher sperm counts, a higher proportion of normal sperm cells, higher average semen volume and a larger average testicular size than others of the same age who didn't take the supplements. All the 1,679 men participating were taking physical exams in preparation for military service, which is compulsory in Denmark. Although they had slightly higher numbers of sperm, there were no beneficial effects on sperm quality in men who took supplements other than fish oil.
Total sperm count was 147 million for men who took no supplements, 159 million for those who took supplements other than fish oil, 168 million for those who took fish oil supplements for fewer than 60 days, and 184 million for those who took fish oil supplements for 60 days or more.
The investigators noted that infertility affects approximately 15 percent of all couples and that approximately 40 to 50 percent of these problems are due to male factors. They added that a decline in semen quality has been documented during the past 50 to 70 years, "however large geographic and population differences exist."
In terms of nutrition, the investigators cited earlier research showing that adherence to healthy diets, including those rich in seafood, poultry, whole grains, fruits, and vegetables "are related to better fertility in women and better semen quality in men." Diets associated with worse semen quality include those rich in processed meats, soy foods, potatoes, full-fat and total dairy products, cheese, coffee, alcohol, sugar-sweetened beverages, and sweets, although it isn't known whether those associations are causal.
Lead author, Tina Kold Jensen, Ph.D., of Copenhagen University Hospital, said that while the new findings have to be confirmed by other studies, "Here we found that young healthy men who took supplements had a better sperm count." She advised men to take supplements if they don't have a fish-rich diet, adding that "it's not dangerous and may have benefits for cardiovascular health as well."
For the record, we all need the omega-3 fatty acids found in oily fish for long-term health, including reduction of risks of heart disease and cancer, decreased inflammation, and enhancement of mood. If you're healthy, you're better off getting omega-3s by eating at least three servings per week of oily fish (wild Alaskan salmon, mackerel, sardines, herring) rather than taking a fish oil supplement.
Andrew Weil, M.D.
Source:
Tina Kold Jensen et al, "Associations of Fish Oil Supplement Use with Testicular Function in Young Men," JAMA Network Open, January 17, 2020, doi:10.1001/jamanetworkopen.2019.19462