Does Diet Affect Fertility?
Is it true that the typical Western diet negatively affects sperm counts? If so, can a man's sperm count increase if he switches to a healthier diet?
Andrew Weil, M.D. | August 15, 2019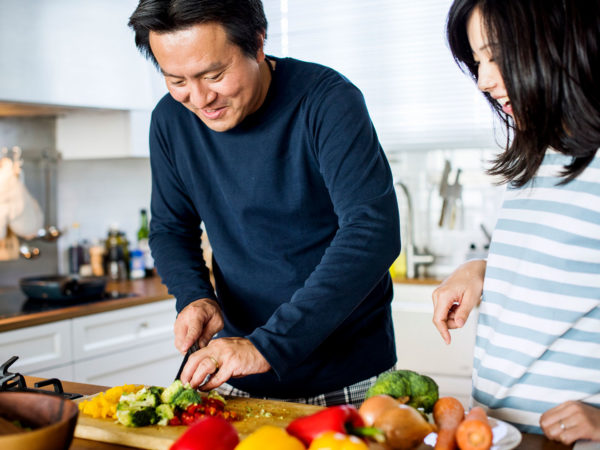 Research from Harvard presented at a medical conference in June (2019) does suggest that young men whose diets are poor – lots of burgers, fries, pizza and energy drinks – have lower sperm counts than men who eat fruits, vegetables, fish and other healthy foods.
Sperm counts have been declining in Western countries for several decades, dropping by nearly 60 percent between 1973 and 2011. We don't know why.  Possibilities include exposure to pesticides and other chemicals, smoking, stress, obesity and even climate change. The Harvard researchers made the point that decreasing sperm counts parallel a decline in diet quality.
The team looked at 2,935 healthy young Danish men undergoing medical exams to determine their fitness for military service. Four dietary patterns were identified among them, including the "Western" one (heavy on pizza, chips, processed and red meats, snacks, refined grains, energy drinks and sweets). The other patterns were a healthy one featuring fish, chicken, vegetables, fruit and water; a vegetarian diet; and the "Smørrebrød" (Scandinavian open-faced sandwiches on buttered bread) diet characterized by cold processed meats, whole grains, mayonnaise, cold fish, condiments and dairy.
The men who adhered the most to the Western diet had a median sperm count that was 25.6 million lower per ejaculate than that of the men whose diets were better. Those who followed the "healthy" diet had the highest sperm counts followed by the vegetarians and those adhering to the Smørrebrød diet. Theoretically, switching to a healthier diet could enable a man's sperm production to recover, but that has not been studied.
Fertility in women as well as men may be compromised by poor eating habits. An Australian study published in 2018 found that women trying to become pregnant who ate fast food four or more times a week took almost a month longer to conceive, while those who ate fruit three or more times a day increased their chances of becoming pregnant quickly. Those who ate fruit fewer than one to three times a month took half a month longer to conceive.
Andrew Weil, M.D.
Source:
Feiby Nassan et al, "Dietary patterns and testicular function in young men," Presentation at European Society of Human Reproduction and Embryology annual meeting, June 25, 2019, Vienna, Austria.