New Drug For Alzheimer's Disease?
I understand there's a new drug for Alzheimer's that really seems to work. What can you tell me about it?
Andrew Weil, M.D. | September 13, 2018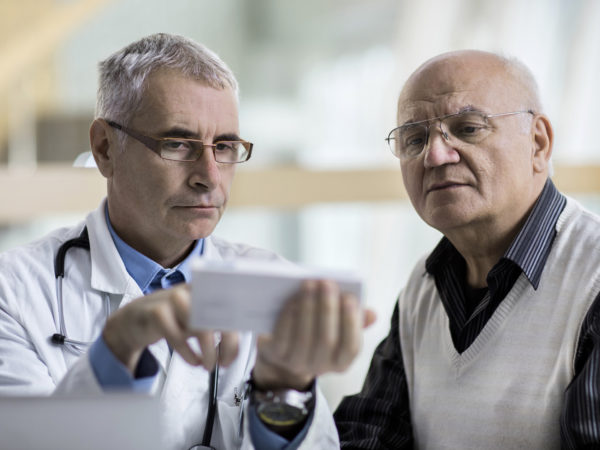 You probably heard promising reports about a drug – BAN2401 – that appears to reduce plaques in the brain of Alzheimer's patients. Plaques are made up of amyloid, an abnormal protein, and are believed to contribute to the death of nerve cells that occurs in Alzheimer's disease. In addition, researchers reported that memory decline slowed by about 30 percent in some of the patients being treated in an ongoing trial. A report on effects of the drug was presented in July 2018 at the Alzheimer's Association International Conference in Chicago.
BAN2401 is the first medication that appears both to reduce plaques and slow memory loss. Even so, we are a long way from effective treatment for the 5.5 million Americans affected by Alzheimer's today. The drugs now available only slow memory decline for a few months.
The study of BAN2401 is ongoing in the U.S., Europe and Japan. The results reported were based on research that included 856 patients with mild cognitive impairment or mild Alzheimer's. All had significant accumulations of amyloid protein. The participants were divided into six groups. Those in one group received placebo injections while those in the other five groups were given shots of varying doses of BAN2401. Significant drops in amyloid levels occurred in the 161 participants who were given the highest dose. These levels declined to levels below those typically seen without dementia, symptoms of memory loss and impaired reasoning and the inability to plan declined by 30 percent among patients on the highest drug dose, compared to those who received the placebo. This result might be enough to make a difference for people in the earliest stages of Alzheimer's, some experts said, although others disagreed.
This was a "Phase 2" trial of BAN2401, designed to measure the drug's safety and efficacy. It must next go to Phase 3 trials that will enroll more participants in order to better measure efficacy and determine adverse reactions. Even if all goes well in Phase 3, it still could take years before this drug becomes available to patients, and many drugs that show promise in Phase 2 trials do not perform well in Phase 3.
Until we have a treatment that successfully arrests Alzheimer's, the only options available today are drugs that may help improve symptoms and allow patients to perform daily activities longer than they otherwise could. These include Aricept for all stages of the disease and Exelon and Razadyne for mild to moderate Alzheimer's. Side effects include nausea, vomiting, loss of appetite and increased frequency of bowel movements. Another drug, Namenda, is intended for moderate to severe cases. Its side effects include headache, constipation, confusion and dizziness. All these drugs are supposed to reduce memory loss, confusion and problems with thinking and reasoning.
Andrew Weil, M.D.
Source:
Alzheimer's Association news release, "BAN2401 Data Released at AAIC 2018." July 25, 2018, Chicago, IL, alz.org/aaic/releases_2018/AAIC18-Wed-3-30-pm.asp.