Diet To Deter Dementia?
Can you tell me about the diets that are supposed to reduce the risk of dementia? I'm told there are several.
– September 29, 2017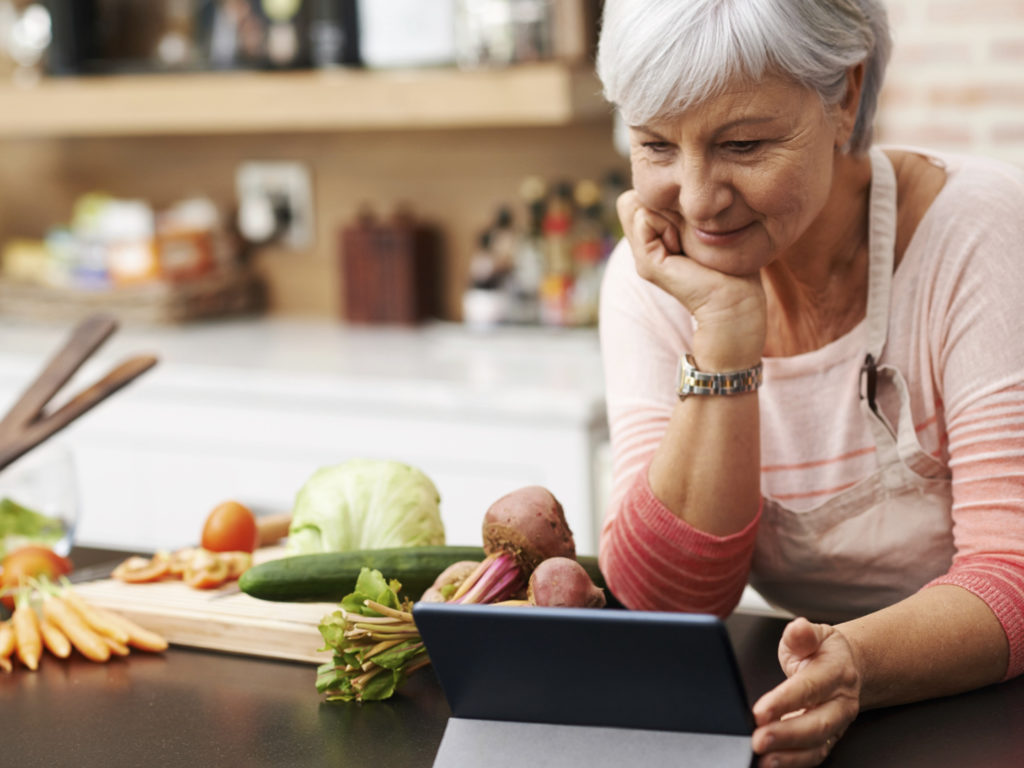 You may have heard about research presented at the Alzheimer's Association International Conference held in London in July (2017) where researchers from the U.S. and Sweden reported that certain heart-healthy diets were also associated with a lower risk of dementia. The one that seemed to offer the most protection was the MIND diet, an amalgam of the Mediterranean and DASH diets. ("DASH" stands for "Dietary Approaches to Stop Hypertension.") The U.S. investigators reported that among 5,907 seniors participating in the Health and Retirement Study sponsored by the National Institute on Aging those who were healthy and consistently followed the MIND or Mediterranean diet had a 30 to 35 percent lower risk of cognitive impairment. Participants who moderately adhered to either diet were 18 percent less likely to show signs of cognitive impairment.
Another study of the MIND diet at Wake Forest School of Medicine followed more than 7,000 women whose average age was 71. After following the women for almost 10 years, the researchers reported that those who most closely adhered to the MIND eating plan were 34 percent less likely to develop Alzheimer's than those who followed this diet the least.
Sweden's Healthy Nordic Diet also appears to offer some protection. Researchers from Stockholm's Karolinska Institutet reported that in a group of 2,223 seniors those who followed the Nordic diet had better brain health than the rest. The Healthy Nordic Diet is similar to the Mediterranean diet in that it emphasizes whole grains, berries and other fruits; non-root vegetables; fatty fish such as salmon, mackerel, and herring; and legumes (beans and peas). Instead of olive oil, however, the Nordic diet relies on canola oil. Processed foods, sweets and red meat are limited.
A diet that doesn't seem to do the brain any good is one that includes processed foods, sweets and fried and fatty foods. Researchers from Columbia University in New York City presented findings linking this way of eating to premature signs of brain aging, including smaller brain volume. They reached these conclusions after reviewing MRI brain scans of 330 cognitively normal seniors (average age 80). The team linked the brain changes seen on the scans to inflammatory damage.
These findings are encouraging in that they all reveal a link between heart healthy diets and a lower risk of dementia with advancing age. We've known for some time that the Mediterranean diet helps reduce the risk of Alzheimer's because of its anti-inflammatory effects. (Anti-inflammatory drugs such as ibuprofen appear to lower the risk of developing Alzheimer's, and turmeric, a powerful anti-inflammatory agent, also seems to be protective.) Inflammation in the brain precedes the tangles of filaments within nerve cells and accumulation of protein plaques outside them that are characteristic of Alzheimer's disease.
My anti-inflammatory diet is similar to the Mediterranean diet in its emphasis on high quality fresh fruits and vegetables, olive oil, some dairy products, fish and vegetable rather than animal protein. I believe an anti-inflammatory diet is even more effective than the Mediterranean diet at moderating inflammation.
Andrew Weil, M.D.
Source:
Claire T. McEvoy et al, "Neuroprotective Diets Are Associated with Better Cognitive Function: The Health and Retirement Study." Journal of the American Geriatrics Society, April 25, 2017, DOI: 10.1111.jgs.1492