Diet To Deter Dementia?
What's the latest on whether or not diet can reduce the risk of dementia? I heard there was a new study from France.
Andrew Weil, M.D. | May 3, 2020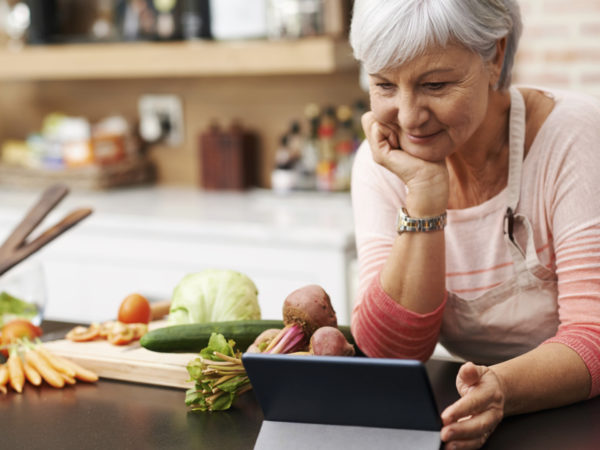 The French study, published in April 2020, looked at how the combination of foods people eat affects the risk of dementia. Investigators from the University of Bordeaux found that individuals whose diets focused mostly on highly processed meats, starchy foods (such as potatoes), and sweet snacks (cookies, cake) were more likely to develop dementia than people who ate a variety of healthy foods.
The study included 209 people, average age 78, who had dementia and 418 people, matched for age, sex and educational level, who didn't have it. All had completed a food questionnaire five years earlier describing what they ate over the course of a year and how often they consumed particular foods, from less than once a month to more than four times daily. It turned out that people who developed dementia were more likely to combine highly processed meats such as sausages and patés with starchy foods, sweets, and alcohol.
The findings suggest that the frequency with which processed meat is combined with other unhealthy foods may be related to dementia risk. The investigators reported that people with dementia were more likely to accompany processed meat with potatoes while people without dementia were more likely to pair meat with fruit, vegetables or seafood. Bottom line: those who did not have dementia were more likely to eat varied diets that included healthy foods.
The MIND Diet – which stands for "Mediterranean-DASH intervention for Neurodegenerative Delay" – has been shown to reduce the risk of dementia. It has cut Alzheimer's incidence by 53 percent among people who follow it closely and by 35 percent among those who follow it moderately well and appears to work better than either the Mediterranean diet or the DASH diet for lowering the risk of cognitive decline.
Sweden's Healthy Nordic Diet also seems to offer some protection. Researchers from Stockholm's Karolinska Institutet reported that in a group of 2,223 seniors those who followed the Nordic diet had better brain health than the rest. This diet is similar to the Mediterranean diet in that it emphasizes whole grains, berries and other fruits; non-root vegetables; fatty fish and legumes (beans and peas) and limits processed foods, sweets and red meat but relies on canola oil instead of olive oil.
A diet with the opposite effect is one heavy in processed foods, sweets and fried and fatty foods. Columbia University researchers linked this way of eating to premature signs of brain aging after reviewing MRI brain scans of 330 cognitively normal seniors (average age 80).
We've known for some time that the anti-inflammatory effects of the Mediterranean diet reduce the risk of Alzheimer's.
My anti-inflammatory diet is similar to the Mediterranean diet in its emphasis on high-quality fresh fruits and vegetables, olive oil, some dairy products, and fish. I believe it is even more effective at moderating inflammation.
Andrew Weil, M.D.
Source:
Cécilia Samieri et al "Using network science tools to identify novel diet patterns in prodromal dementia." Neurology, 2020; 10.1212/WNL.0000000000009399 DOI: 10.1212/WNL.0000000000009399