Blood Test For Alzheimer's?
Is it true that there's a blood test for Alzheimer's disease? Can you tell me what's involved and who should take it?
Andrew Weil, M.D. | December 21, 2020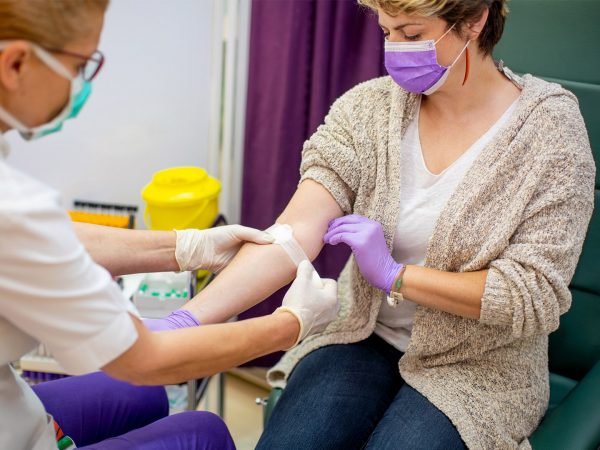 Researchers in Sweden and Britain have developed a method of predicting the risk of Alzheimer's disease developing in people with mild cognitive impairment. It's based on measuring the levels of two proteins in blood samples. Studies have shown that results correctly predicted Alzheimer's disease (AD) 88 percent of the time over four years. The test has been described as a "potential game-changer" by experts in the field.
Musaid Husain, Ph.D., professor of neurology at the University of Oxford, who was not involved in the study, said, "We need further validation [of the results] but in the context of other recent findings this could be a transformative step to earlier diagnosis, as well as testing new treatments at earlier stages of the disease."
The cause of AD isn't clear. However, scientists know that the brains of people with this condition contain abnormal clumps and knots called plaques and tangles. These are made up of proteins that may be involved in the neuron (nerve cell) death that occurs in Alzheimer's. Researchers also believe that inflammation observed in the brains of some people with the disease may play a central role.
Richard Oakley, Ph.D., head of research at the Alzheimer's Society in the UK, has noted that the main struggle in battling the disease is diagnosing cases early enough to intervene with experimental treatments. He added that if the blood biomarkers can predict AD in larger, more diverse groups, "we could see a revolution in how we test new dementia drugs."
Earlier this year (2020), researchers at Washington University School of Medicine in St. Louis developed a technique to detect minute amounts of a protein fragment linked to AD. Published July 28 in the Journal of Experimental Medicine the study showed that levels of this protein fragment – p-tau-217 – are elevated during the early stages of Alzheimer's and could lead to a simple blood test capable of diagnosing the disorder years before symptoms begin to appear.
Alzheimer's disease is the most common cause of dementia, involving the loss of memory and other intellectual abilities serious enough to interfere with daily life. It is the sixth-leading cause of death in the United States and the fifth leading cause of death for those age 65 and older. AD currently affects more than five million Americans age 65 and older, a number expected to triple by 2050. Of those, two-thirds (3.6 million) are women.
Andrew Weil, M.D.
Source:
Nicholas C. Cullen et al, "Individualized prognosis of cognitive decline and dementia in mild cognitive impairment based on plasma biomarker combinations," Nature Aging, November 30, 2020, https://www.nature.com/articles/s43587-020-00003-5#author-information.