Are Nuts Good For Memory?
Is it true that eating nuts can help preserve memory in older people? If so, what kind of nuts and how many should you eat?
Andrew Weil, M.D. | May 7, 2019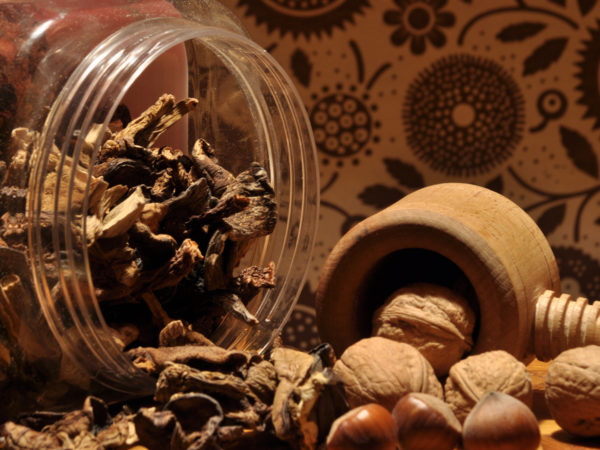 A study from the University of South Australia (UniSA) has shown that eating nuts was associated with improvements in thinking and memory among Chinese adults age 55 and older. The study, including 4,822 individuals, found that eating more than 10 grams of nuts a day (the equivalent of two teaspoons) could improve cognitive function by up to 60 percent compared to that of study participants who didn't eat nuts. Study leader Ming Li, a senior research fellow at UniSA, reported that data collected over 22 years showed that 17 percent of the participants in the China Health Nutrition Survey were regular consumers of nuts, mostly peanuts, which she said have specific anti-inflammatory and antioxidant effects that can alleviate and reduce cognitive decline. (Peanuts, however, are legumes, not true nuts.)
This isn't the first study to show that eating nuts has beneficial effects. In a study from UCLA, researchers found that eating a quarter cup of walnuts daily was linked to a lower likelihood of depression. They reported that more than 26,000 American adults responded to a questionnaire about what they had eaten over the course of two days as well as how often they experienced symptoms of depression, such as trouble sleeping or sleeping too much, losing interest in doing things, feeling tired, having little energy and difficulty concentrating. Analysis of the responses showed that depression scores were 26 percent lower among those who reported eating walnuts and 8 percent lower among those who ate other nuts (compared to people who didn't report eating nuts at all). These findings were particularly true of women, who are more likely than men to report depression. Overall, the study found that participants who ate walnuts were more likely to have greater interest in activities, higher energy levels, less hopelessness, better concentration and greater optimism. (The study was financed by the California Walnut Commission.)
You also may be interested to know that recent research from Singapore suggests that consuming more than two portions of mushrooms weekly can cut the risk of mild cognitive impairment (MCI) by 52 percent, while eating one to two portions can reduce it by 43 percent. A portion was defined as 3/4 of a cup of cooked mushrooms. These findings come from a six-year study that included more than 600 Chinese seniors living in Singapore. Researchers tested each participant's cognitive function and conducted interviews and exams to determine their medical history and dietary habits. The mushrooms consumed included freshly cooked golden oyster, shiitake and white button mushrooms, as well as dried and canned mushrooms, but the researchers said it is likely that other types also would have beneficial effects.
Andrew Weil, M.D.
Sources:
Ming Li et al, "A Prospective Association of Nut Consumption with Cognitive Function in Chinese Adults Aged 55 _ China Health and Nutrition Survey." The journal of nutrition, health & aging, February 2019, DOI: 10.1007/s12603-018-1122-5