Weighted Blankets To Treat Insomnia?
Is it true that certain types of blankets can relieve insomnia? What kind of blankets work best?
Andrew Weil, M.D. | November 10, 2020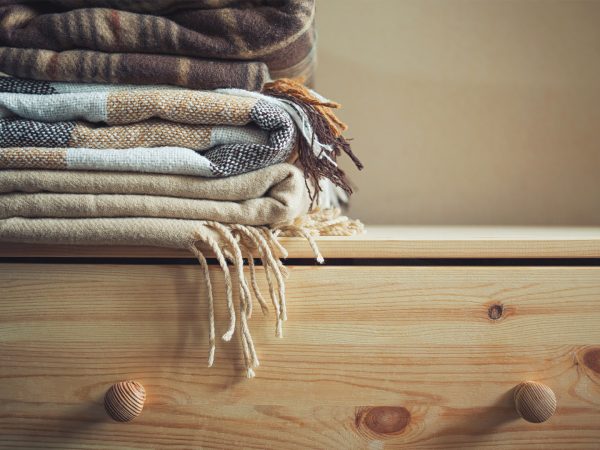 Results of a Swedish study published in September (2020) showed that special weighted blankets reduced the severity of restlessness and improved sleep in 120 patients who had been diagnosed with insomnia. Participants not only slept better when they used a weighted blanket but had fewer symptoms of fatigue, depression, and anxiety. These benefits continued for 12 months of follow-up. Most of the participants were women whose mean age was 40. They had been previously diagnosed with clinical insomnia as well as a psychiatric disorder such as major depressive disorder, bipolar disorder, attention deficit hyperactivity disorder, or generalized anxiety disorder.
Weighted blankets are filled with plastic or glass beads, and generally range from five to 25 pounds. Reportedly, the best ones equal five to 10 percent of your body weight. The pressure they provide is said to be calming.
All the participants in the Swedish study were randomized to sleep for four weeks at home with a weighted metal chain blanket (a type of heavy weighted blanket) or a control blanket. Those using a weighted blanket could choose between one weighing about 17.6 pounds or another weighing 13.2 pounds. Participants in the control group slept with what the researchers described as a "light plastic chain blanket" weighing about 3.3 pounds.
Those who used the weighted blankets for four weeks reported significantly reduced insomnia, better sleep, a higher daytime activity level and fewer symptoms of fatigue, depression and anxiety. And they were nearly 26 times more likely to experience a 50 percent or more decline in the severity of their insomnia compared to those in the control group and nearly 20 times more likely to achieve remission of their insomnia, a change maintained through the following year.
Study leader, Mats Alder, consultant psychiatrist at Sweden's Karolinska Institute, said the explanation for the calming and sleep-promoting effects is the pressure of the chain blanket on different points on the body, "stimulating the sensation of touch… similar to acupressure and massage."
These are interesting findings. Weighted blankets are widely available. If you're interested in trying one, look for one that weighs about 10 percent of your body weight. Online prices range from $50 to $300 or more.
Andrew Weil, M.D.
Source:
Mats Adler et al, "A randomized controlled study of weighted chain blankets for insomnia in psychiatric disorders." Journal of Clinical Sleep Medicine, 2020; DOI: 10.5664/jcsm.8636