Sight And Your Sleep?
I'm becoming myopic, and aside from affecting my eyesight, it appears to be disturbing my sleep. Is that possible?
Andrew Weil, M.D. | June 3, 2021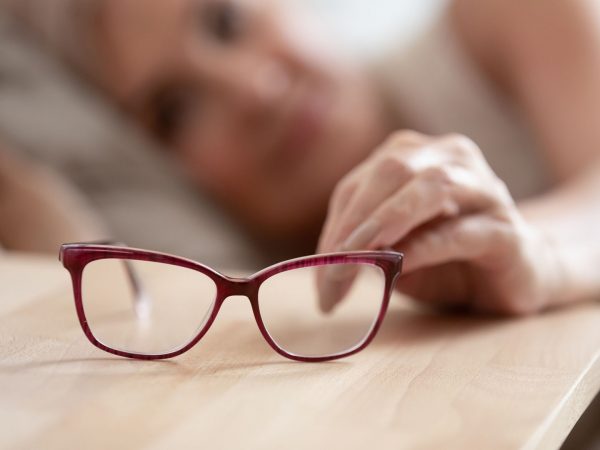 I'm afraid so. Myopia (nearsightedness) affects 30 to 50 percent of adults in the U.S. and Europe compared to 80 to 90 percent of educated men and women in some East Asian countries. Interestingly, several studies have found that the more education you have, the more likely you are to become nearsighted. It's theorized that habitual focusing on close objects such as books and computer screens may be a contributing factor, and years spent in school seems to be more predictive of developing myopia than genetic predisposition. Researchers in the UK analyzed 44 genetic variants linked to nearsightedness and gathered data about years of schooling in nearly 68,000 men and women age 40 to 69. They found that a UK university graduate with 17 years of education would be a bit more myopic, on average, than someone who spent only 12 years in school.
As for sleep, new research from Australia indicates that people with myopia are more likely to have problems sleeping than people with normal vision. The study, from Flinders University, indicated that compared to people with normal vision those with myopia have more delayed circadian rhythms and lower production of melatonin, which is responsible for regulating sleep at night.
Australian optometrist Ranjay Chakraborty, Ph.D., says the new study adds to growing evidence of the potential association between disruption of the circadian rhythm and development of myopia. He noted that this is due to the advent of artificial light and that the use of light-emitting electronic devices for reading and entertainment "has become a recognized health concern…but its impact on eye health has not been studied extensively."
In the study, circadian timing and melatonin production were measured in university students in their twenties, some with myopia and others with normal sight. Dr. Chakraborty noted that young adults with myopia had significantly delayed circadian rhythms and lower output of melatonin than normal sighted participants.
Myopia generally develops in children around puberty but also can appear in early childhood. Researchers report that global cases of myopia are increasing and may be linked to excessive screen use.
Dr. Chakraborty says children's sleeping habits and screen time should be evaluated to reduce the chances of myopia progressing. He noted that "a lot of digital devices emit blue light, which can suppress the production of melatonin and cause delay in circadian rhythms at night, resulting in delayed and poor sleep."
He added that since myopia typically develops during childhood, "we would like to examine circadian rhythm timing, total production of melatonin, (and) sleep and light exposure at night in young children" to get a better picture of the biological and environmental factors underlying myopia.
Andrew Weil, M.D.
Source:
Ranjay Chakraborty et al, "Myopia, or near-sightedness, is associated with delayed melatonin circadian timing and lower melatonin output in young adult humans." Sleep, March 2021 DOI: 10.1093/sleep/zsaa208