Does Bedding Affect Sleep Quality?
I struggling falling to sleep at night, I tend to toss and turn. I am wondering if my bedding could be the issue?
Andrew Weil, M.D. | April 3, 2023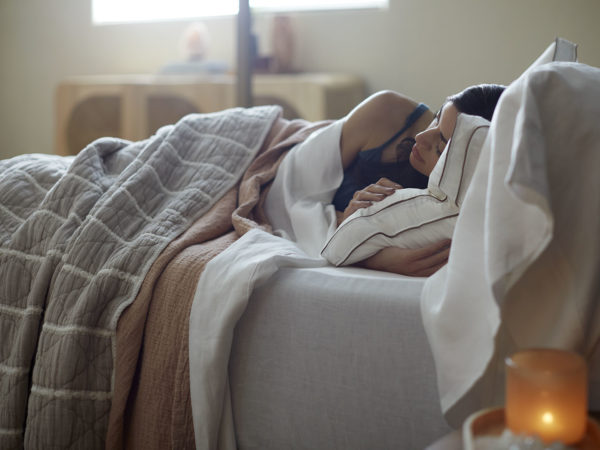 Poor sleep quality does have a connection to bedding. Similar to how light, noise, and the temperature of the environment in which you sleep can influence how quickly you fall asleep and remain at rest, the foundation of your sleep space may also play a critical role in the quality of sleep you experience.
From the age and support level of your mattress to the material makeup and comfort of the bedding you choose, mounting evidence inspired by studies at Oklahoma State University begs to question several factors that could be why many adults often struggle to experience deep, restful sleep.
The studies, completed between 2007 and 2009, were conducted at the School of Applied Health and Educational Psychology, Health and Human Performance to compare sleep comfort and quality between personal and new bedding systems and the prevalence of body aches, pain, and perceived stress upon waking.
Researchers took a sample of 62 adult men and women and recorded back and shoulder pain, stress levels, sleep quality, comfort, and efficiency for 28 days in their beds and again in new bedding systems provided to them for 28 days post. While their findings reveal a significant correlation between bedding quality, sleep quality, and the experience of body aches and pain upon waking, it's important to note that they do not prove that bedding is a primary cause of poor sleep. Additional factors, such as lifestyle and those mentioned above, can also play a role in sleep quality and comfort.
Still, if you find restful sleep difficult to come by, the results are worth considering. Here's a summary:
Bedding Age: The age of subjects' bedding ranged from 5-10 years, with all bedding classified as moderately priced. Results revealed that new bedding systems improved continuous sleep quality, indicating that timely replacement of bedding is optimal for comfort and support.
Bedding Quality: Subjects reported more body aches and pain after sleeping on bedding within the cheapest categories than within the medium and high categories, suggesting that higher-quality bedding materials positively influence one's sleep experience.
Stress: Of the stress-related symptoms subjects reported pre-study (i.e., worrying, racing thoughts, irritability, headaches, disruptive dreams, nervousness, insomnia, etc.), reports of stress were reduced by 19.5-21.5% post-study. This was true for both men and women, regardless of age.
Again, the results above show a correlation between the factors examined, not causation. Other factors not reported can also play a role in sleep quality, comfort, and efficiency, as well as the level of stress one experiences. A key takeaway from this report is that adequate sleep is important, and accumulating research continues to shed light on how pivotal a role sleep plays in overall health and wellbeing.
Meanwhile, if your sleep quality and efficiency are a concern for you, it might be beneficial to assess the age and material quality of your bedding to ensure it's designed to address your unique sleep needs and concerns. If it's been two years or more since you last invested in new bedding, making a few simple changes in your bedding system could help you improve the overall comfort, support, and sleep quality you experience.
Andrew Weil, M.D.
Sources
Jacobson BH, Wallace TJ, Smith DB, Kolb T. Grouped comparisons of sleep quality for new and personal bedding systems. Appl Ergon. 2008 Mar;39(2):247-54. doi: 10.1016/j.apergo.2007.04.002. Epub 2007 Jun 26. PMID: 17597575.
Jacobson BH, Boolani A, Smith DB. Changes in back pain, sleep quality, and perceived stress after introduction of new bedding systems. J Chiropr Med. 2009 Mar;8(1):1-8. doi: 10.1016/j.jcm.2008.09.002. PMID: 19646380; PMCID: PMC2697581.