Coping In An Unsettled World
The events I see in the news each day don't affect me directly, but they do make me feel uneasy. Do you have any suggestions for coping mechanisms?
Andrew Weil, M.D. | August 25, 2022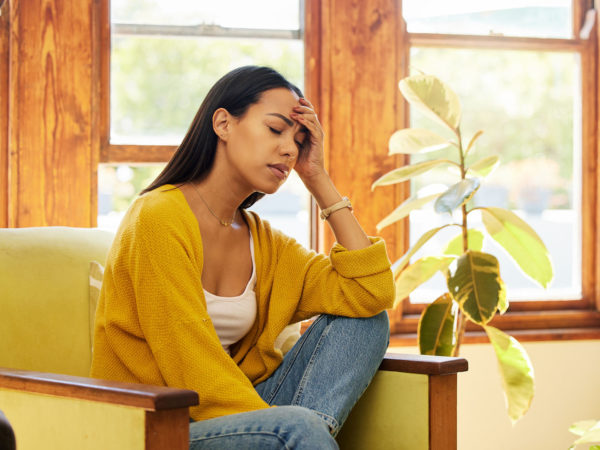 It's certainly understandable that world events would make one feel unsettled. There is a lot of troubling news these days, and even when we're not personally affected we can feel the stress and anxiety of our times. I do have a few recommendations for maintaining your equilibrium and coping during these uncertain days.
First and foremost, remind yourself that happiness and peace come from within. There will always be good news as well as bad, and a mix of happy life events and distressing ones. We all have what I call our "emotional sea level," meaning that default mood setting, or set point, that rises in happy times and falls in sad ones. My goal is to keep my set point at a comfortable level — content with my place in the world and calm in the knowledge that everything is just as it should be. When confronted with upsetting events I don't feel keeled over; I accept the temporary lowering of my sea level and know that everything passes in time.
Getting to that content and calm set point can take some time and introspection. I have found much to guide my own journey in eastern practices, and I recommend them to anyone who seeks a more contented, less anxious life.
Breathing
Breathing exercises, including yoga breathing, have been shown to ease symptoms of depression and anxiety. I recommend them as an everyday routine to help maintain a sense of calm.  There are some simple breathing techniques that yield impressive results. See descriptions and videos of three breathing exercises here.
Meditation
Neuroscience supports what eastern practitioners have known for centuries: taking time for meditation has a measurable effect on the brain. There are different approaches to meditation – in some practices you simply concentrate on your breathing and let troublesome thoughts slip away; in other you repeat a mantra or visualize a calming image. Read more about meditation here.
Sounds and Silence
It's not just the news that can disturb our sense of calm – we are barraged with input from ringing phones, pinging texts and emails, our neighbors' landscapers, car alarms and stereos, and so much more. I recommend white noise machines and noise-cancelling headphones when you need some time for silent retreat. For positive, calming sounds, I recommend nature. Wind in the trees, water tumbling over rocks, birds calling – all are soothing sounds that we simply don't get enough of in our tech-driven environments. (Many white-noise machines allow you to choose sounds of nature when it's not feasible to go for a walk in the woods.)
If you find yourself in serious distress, consider a professional therapist. Those who specialize in cognitive behavioral therapy are especially well suited to helping patients manage negative thoughts and improve emotional well-being.
Andrew Weil, M.D.
Sources
https://www.drweil.com/health-wellness/body-mind-spirit/stress-anxiety/breathing-three-exercises/
https://www.drweil.com/blog/spontaneous-happiness/sound-and-silence-why-both-are-important/
https://www.drweil.com/health-wellness/balanced-living/wellness-therapies/is-cognitive-behavioral-therapy-right-for-you/
Brown RP, Gerbarg PL. "Yoga breathing, meditation, and longevity." Ann N Y Acad Sci. 2009 Aug;1172:54-62. doi: 10.1111/j.1749-6632.2009.04394.x. PMID: 19735239. https://pubmed.ncbi.nlm.nih.gov/19735239/
Weil, Andrew. Spontaneous Happiness: A New Path to Emotional Well-Being. New York, Little, Brown and Company, 2011