Can Cocoa Benefit Your Brain?
I've read that drinking cocoa can help you think faster and better. What is it about cocoa that could have this effect?
Andrew Weil, M.D. | January 4, 2021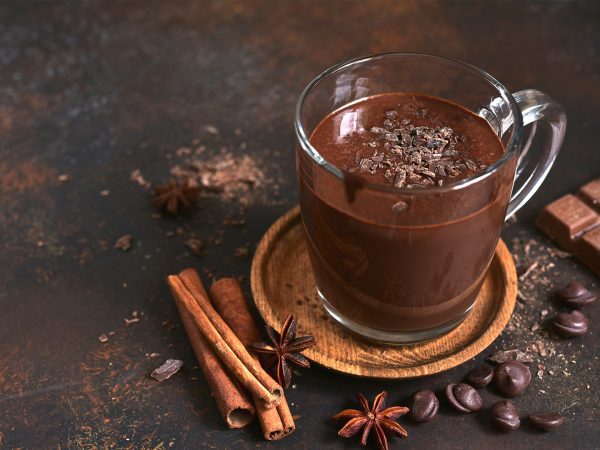 It is true that a study from the UK showed that drinking cocoa enriched with flavanols – a class of antioxidant compounds found in fruits and vegetables – can speed thinking and help people address and complete certain mental tasks more efficiently than they would otherwise.
The study's lead author, Catarina Rendeiro, Ph.D. of the University of Birmingham's School of Sport, Exercise and Rehabilitation Sciences, explained that while her team used cocoa, flavanols occur in a wide range of fruits and vegetables. By better understanding the cognitive benefits of consuming these foods, she said, "We can offer improved guidance to people about how to make the most of their dietary choices."
For the study, 18 healthy men age 18 through 40 took part in a procedure designed to challenge the brain's blood circulation. This involved breathing five percent carbon dioxide – about 100 times the normal concentration in air – which produces an effect called hypercapnia.
Each of the men was subjected to this procedure before and after consuming cocoa on two occasions. On one of the two occasions, the drink was enriched with flavanols. Following the carbon dioxide challenge, the participants were asked to complete a series of complex cognitive tests.
The researchers found that the men who drank the flavanol-enriched cocoa had the highest levels of blood oxygenation, up to three times that of those who consumed the non-flavanol-enriched drink. And the volunteers who performed best on the cognitive tests were those who consumed the flavanol-enriched drink. On average these men completed the tests 11 percent faster.
Dr. Rendeiro noted that when you're being mentally challenged, your brain needs improved blood oxygen levels. Her study suggests that flavanols might be particularly beneficial during cognitively demanding tasks. However, a small group of participants didn't derive any cognitive benefit from the flavanol-enriched drink. (They had high levels of brain oxygenation responses to start with that weren't increased by drinking the enriched cocoa.)
"This may indicate that some individuals, that perhaps are already very fit, have little room for further improvement," Dr. Rendeiro said.
Andrew Weil, M.D.
Source:
Catarina Rendeiro et al "Dietary flavanols improve cerebral cortical oxygenation and cognition in healthy adults," Scientific Reports, November 24, 2020