Medicate Migraines While Breastfeeding?
I am a breastfeeding mom who suffers from migraines. Are there supplements that can prevent migraines and are safe to use when breastfeeding? What about treatments when I have a migraine – are any drugs or supplements safe?
Andrew Weil, M.D. | October 29, 2017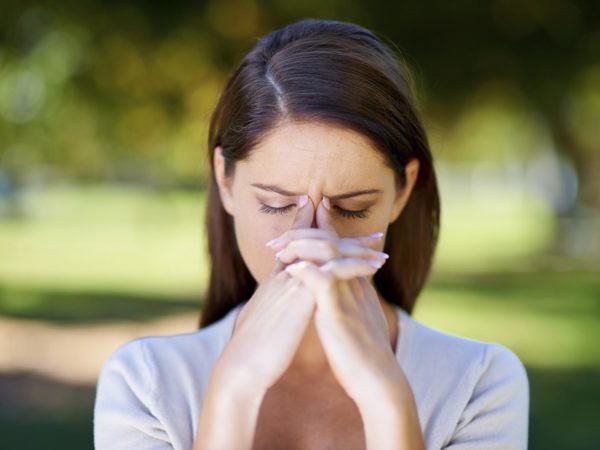 Fortunately, up to 80 percent of women who have migraines have fewer headaches by the end of the third month of pregnancy. If you're very lucky, your migraines might not return at all after you deliver. But if they do, dealing with them can be tricky, especially if you're breastfeeding.
Because it is considered unethical to test drugs on pregnant or breastfeeding women, what we know at this time is circumstantial. Based on observations, migraine experts say it is safe for breastfeeding moms to take acetaminophen (Tylenol), non-prescription anti-inflammatory drugs such as ibuprofen (Motrin) and naproxen (Aleve), as well as the prescription migraine medication sumatriptan (Imitrex) for relief of the headaches. We don't know enough yet to okay any of the other triptan drugs for women who are breastfeeding.
You can get a complete list of which drugs are safe to take and which ones breastfeeding women should avoid at the U.S. National Library of Medicine online database, you or your doctor can access this. Some medications used to prevent migraines are safe to use while breastfeeding. They include some of the beta blockers (also used to treat high blood pressure). Ask your physician if it is safe to take any of the others.
However, you can safely try several supplements while breastfeeding to see if they work for you as preventives. Vitamin B2 (riboflavin) can be helpful, as can magnesium and the herb feverfew, which is available at health food stores. The recommended dose of riboflavin is 400 mg daily – a fairly high dose, which needs to be prescribed by a physician. Recommended dosage for magnesium is anywhere between 400-600 mg daily, sometimes higher. Dosage of feverfew is 100-250 mg of an extract standardized to .7 percent parthenolides.
Another herb, butterbur, which is considered as effective and safe as some prescription drugs for migraine prevention isn't recommended during pregnancy or breastfeeding because not enough evidence of safety for babies is available. In addition to supplements, you might also consider biofeedback as a non-drug approach to reducing the frequency and intensity of your migraines.
Andrew Weil, M.D.
Source:
Susan Hutchinson, "Use of common migraine treatments in breast-feeding women: a summary of recommendations." Headache, April 2013, doi:10.1111/head.12064