Can Migraines Cause Depression?
Is it true that having migraines increases the risk of depression? I have them and find the headaches pretty depressing, although I feel okay between them. Should I be worried about depression?
Andrew Weil, M.D. | January 10, 2014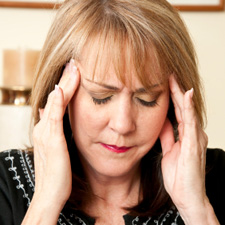 Some evidence does suggest that having migraine headaches increases the risk of depression, particularly among women. The latest study on this subject comes from Canada, and found that the prevalence of depression is twice as high among migraine patients as it is among people who don't suffer from these headaches. For men who have migraine the prevalence of depression seen in the study was 8.4 percent, compared to depressed mood in only 3.4 percent of men without the problem. For women, the prevalence was 12.4 percent compared to 5.7 percent in women without the headaches.
The researchers at the University of Toronto also found that women under 30 who had migraine symptoms had six times the odds of developing depression as did migraine patients age 65 and older and that the risk of depression was also higher among unmarried individuals and those who had trouble with daily activities because of the headaches.
The research team drew upon data from more than 6,000 respondents who had been diagnosed with migraine and were excerpted from a health survey initiative of more than 67,000 Canadians. Results showed that the headaches were much more common among women than men – one in every seven women compared to one in every 16 men. These findings are similar to those seen in earlier studies. The Toronto study also found that migraine patients of both genders were twice as likely to have thought seriously about suicide as people who don't have the headaches. They further reported that migraine patients under age 30 were four times more likely to have thought about suicide than migraine patients over 65. In addition, suicidal thoughts were more common among unmarried migraine patients, those with lower household income and those whose daily activities were more limited because of the headaches.
This study wasn't the first to link migraine with depression. In 2012 researchers at Brigham and Women's Hospital in Boston reported that the risk of depression is up to 41 percent higher in women with past or present migraine than it is among women who do not have the condition.
Researchers analyzed data from 36,154 participants in the Women's Health Study who were not depressed and provided information about their migraine history. All told, 6,456 women reported current or past migraine. Over 14 years of follow-up, 3,971 of these women developed depression.
Study author Tobias Kurth was quoted in news reports as saying that having chronic intermittent pain may make you more likely to develop depressive symptoms. He also suggested that the two conditions might share similar pathophysiological features in the brain and voiced hope that the study findings would encourage discussion among doctors and migraine patients about the risk of depression and options for prevention. The results of this study were presented at the American Academy of Neurology's 2012 annual meeting.
Andrew Weil, M.D.
Source
Esme Fuller-Thomson, Meghan Schrumm, Sarah Brennenstuhl. "Migraine and Despair: Factors Associated with Depression and Suicidal Ideation among Canadian Migraineurs in a Population-Based Study". Depression Research and Treatment, DOI: 10.1155/2013/401487