Noshing On Natto?
Does natto contain enough probiotics to really help with digestive issues?
Andrew Weil, M.D. | February 15, 2022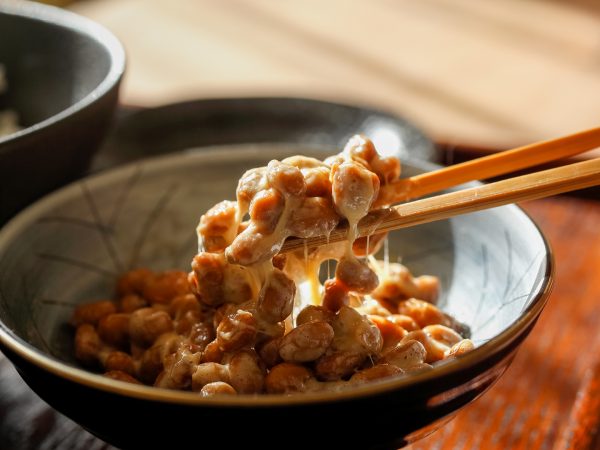 Yes — and this traditional Japanese food may have other health benefits as well. Natto is made from fermented soybeans and has a strong flavor and a slippery texture. Its distinctive, powerful smell has been described as musky and similar in pungency to ripe cheese. For these reasons, natto is an acquired taste for many people, especially Westerners. In Japan, natto is often eaten at breakfast with rice and sometimes with mustard, soy sauce, broth, vegetables, or raw egg. In that country you'll also find natto sushi, natto toast and in some areas, natto dusted with sugar, and even natto ice cream. I enjoy natto on occasion, especially with rice and sushi.
Like other fermented foods, natto is a rich source of probiotics and other nutrients. After soybeans are soaked and steamed, they are sprinkled with powdered natto bacteria (Bacillus subtilis) and fermented for up to 24 hours, then cooled and aged for at least a week. One 3-ounce serving of natto contains about 15 grams of protein, as well as calcium, iron, and zinc, vitamins B2, C, E, and K, and nattokinase, an enzyme that may benefit cardiovascular health.
Each gram of natto offers about the same probiotic benefits that you might get from a full serving of other fermented foods or probiotic supplements. Probiotics in general have been shown in studies to help decrease gas, bloating, antibiotic-related diarrhea, and symptoms of gastrointestinal conditions such as inflammatory bowel disease. It stands to reason that the probiotics in natto would have these same benefits.
Along with improved digestion, research suggests that natto may help keep bones strong, protect the cardiovascular system, and contribute to a healthy immune system. You can find natto in refrigerated sections of Asian specialty markets.
Andrew Weil, M.D.
Source:
Petre A. March 31, 2017. Why natto is super healthy and nutritious. Healthline. https://www.healthline.com/nutrition/natto