CBD For Inflammatory Bowel Disease (IBD)?
Can CBD oil successfully treat inflammatory bowel disease? What about irritable bowel syndrome?
Andrew Weil, M.D. | June 13, 2019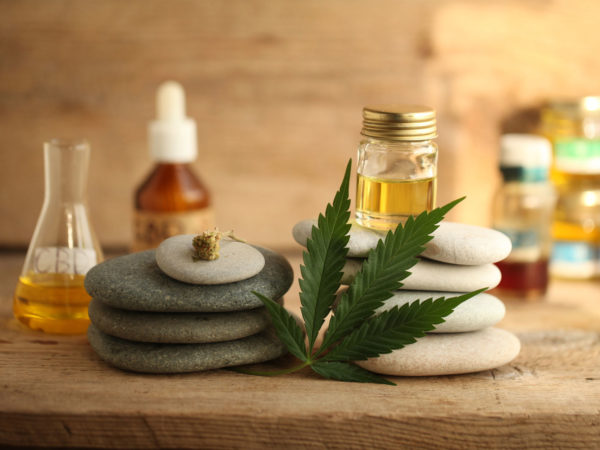 Inflammatory bowel disease (IBD) is a term for two conditions, Crohn's disease and ulcerative colitis. In Crohn's disease, chronic inflammation harms the whole wall of the colon; in ulcerative colitis, inflammatory damage occurs only in the lining of the colon. Irritable bowel syndrome (IBS) is a disturbance of the normal functioning of the lower digestive tract due to faulty nervous system regulation. It is not as serious as IBD in that it causes no obvious structural damage.
CBD is cannabidiol, one of the major constituents (cannabinoids) of cannabis. CBD products are made from industrial hemp and come in various forms. Although hemp and cannabis are the same plant species, CBD products contain less than 0.3 percent THC (tetrahydrocannabinol), the cannabinoid that gets you high.
The possibility that CBD can help treat IBD and IBS stems from laboratory and animal studies showing that it can decrease the inflammation that occurs in these conditions. Beyond that, in 1988, researchers discovered receptors in the human body that bind cannabinoids. These are part of what is termed the endocannabinoid system (ECS), now known to regulate pain perception, gastrointestinal motility, immune function and many other systems in the body. Its receptors are located throughout the brain and body, including the entire gastrointestinal tract. CBD fits into ECS receptors, and preliminary research suggests that it helps correct an imbalance in the ECS that may underlie irritable bowel syndrome.
But there have been very few studies so far of CBD'S effects and those that have been conducted were small and used cannabis or cannabis oil (which contains THC in addition to CBD). In one, 60 participants with mild to moderately active ulcerative colitis were treated for 10 weeks with cannabis oil that contained either 50 mg of CBD twice a day or a placebo. If participants tolerated the 50 mg dose of CBD well, it was increased to 250 mg twice a day. Results showed that 24 percent of the participants taking the cannabis oil with CBD achieved clinical remission, compared to 25 percent of those taking the placebo. Side effects included mild to moderate dizziness, disturbance in attention, headache, nausea and fatigue.
Another study with 32 ulcerative colitis patients who hadn't responded to standard medical care compared 8 weeks of treatment that involved smoking two cannabis cigarettes daily containing 0.5 g of cannabis or a placebo. Results showed lower disease activity in the cannabis group, but no remissions.
Researchers summed up results of both studies as "uncertain" and called for larger studies to assess the effectiveness and safety of cannabis and cannabis oil for treating active and inactive ulcerative colitis as well as to determine the optimum doses and routes of administration. They also noted that long-term studies are needed to assess the safety of frequent cannabis use for this treatment.
As for IBS, a review from the National Academies of Sciences, Engineering and Medicine published in 2018 described the effects of treating it with CBD as "limited, insufficient or absent." That doesn't mean that future studies won't find evidence that it can help. (Notably, the same review reported "conclusive or substantial evidence" that cannabis or cannabinoids can effectively treat pain in adults as well as chemotherapy-induced nausea and vomiting and spasticity associated with multiple sclerosis.)
At this point, the only conditions for which CBD has proved effective are two forms of childhood epilepsy. A CBD pharmaceutical product, Epidiolex, has been approved by the FDA for treating these disorders. I'll update you on the use of CBD for IBD and IBS (and other conditions) as research results become available.
Andrew Weil, M.D.
Sources:
Tim Ambrose and Alison Simmons, "Cannabis, Cannabinoids, and the Endocannabinoid System – Is there Therapeutic Potential for Inflammatory Bowel Disease?" Journal of Chrons Colitis, Marcy 2019, doi: 10.1093/ecco-jcc/jjy185.
E.B. Russo, "Clinical Endocannabinoid Deficiency Reconsidered: Current Research Supports the Theory in Migraine, Fibromyalgia, Irritable Bowel, and Other Treatment-Resistant Syndromes." Cannabis Cannabinoid Research, July 1, 2016, doi:10.1089/can.2016.0009
Donald Abrams, "The therapeutic effects of Cannabis and cannabinoids: An update from the National Academies of Sciences, Engineering and Medicine report," European Journal of Internal Medicine, March 2018, doi: 10.1016/j.ejim.2018.01.003