What Is Contact Tracing?
If I have been with someone who had the coronavirus (COVID-19), am I going to be contacted by the government? Can you tell me how this is supposed to work?
Andrew Weil, M.D. | May 6, 2020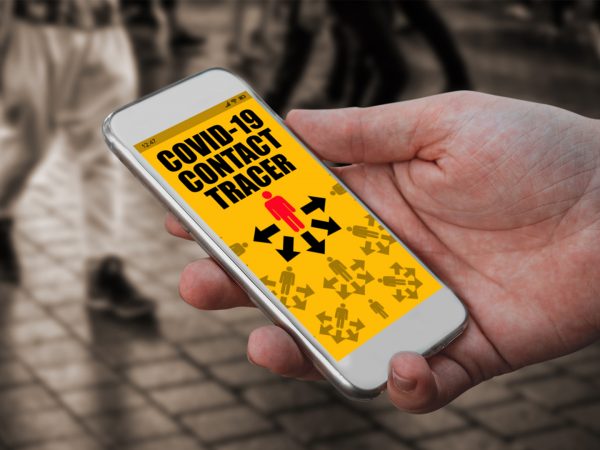 Contact tracing is a time-tested method of discovering how widespread an epidemic is. It has been used previously in the U.S. a number of times to track people who have diseases such as measles and HIV so that they can be isolated in order to stop the spread of illness. As the U.S. looks toward reopening after the recent lockdown, contact tracing to slow the COVID-19 pandemic will be necessary. Here's why: it is estimated that each infected person can, on average, infect two to three other people. According to researchers at Johns Hopkins, this would mean that a "first positive case can turn into more than 59,000 cases in 10 rounds of infections."
Contract tracing for COVID-19 requires identifying infected individuals as well as people they have been in contact with since becoming infected. This applies to people who were within six feet of the infected individual for at least 15 minutes starting from 48 hours before symptoms of the illness began until diagnosis. Once identified, contacts who have been exposed will be instructed to check their temperature twice a day and be alert for COVID-19 symptoms such as shortness of breath or coughing. If these develop, they will be required to isolate themselves and notify the contact tracer who tracked them down. And, of course, they will be asked who their contacts have been since they developed symptoms.
This is going to be a massive nationwide undertaking, considering how many people in the U.S. have been infected.  As many as 100,000 people will be needed to do the job – at a cost of approximately $3.6 billion.
At this writing, it is estimated that there are only 2,200 contact tracers in this country. Reportedly, some states are hoping to recruit thousands of medical students to help. Becoming a contact tracer requires some medical training or experience plus access to social and medical support for patients and their contacts.
Also on the agenda are cellphone tracking apps designed to identify individuals who have been exposed to COVID-19 as a way of helping support contact tracing. If you opt for the app, it would let you know if you have come into contact with someone known to be infected with the virus. Reportedly, nearly one third of respondents to a survey would be willing to do so. Apple and Google, which are developing the apps, maintain that their use would be voluntary and that the confidentiality of users would be protected. While there are serious privacy concerns related to phone tracking systems, they could help speed contact tracing and control the spread of infection.
Andrew Weil, M.D.
Source:
Crystal Watson et al, "A National Plan to Enable Comprehensive Covid-19 Case Finding and Contract Tracing in the U.S," Johns Hopkins Bloomberg School of Public Health, April 2020.