Tinnitus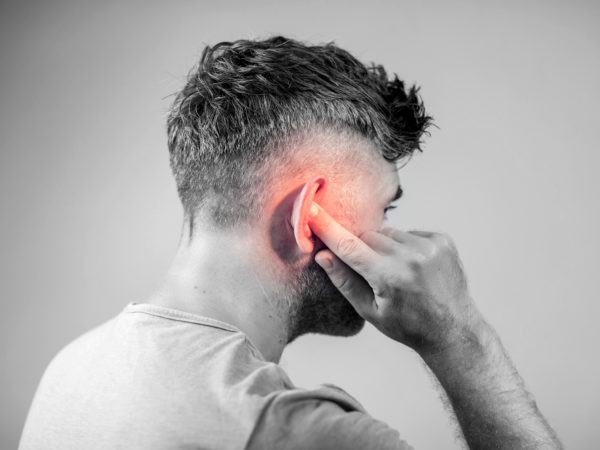 What is tinnitus?
Nearly 50 million Americans suffer from tinnitus, ringing in the ears that can stop and start or go on uninterrupted. In at least one million cases, tinnitus is severe enough to interfere with daily activities – the disorder can be so distracting that people can't hear, work or even sleep.
What are the symptoms of tinnitus?
In addition to ringing in the ears, the sound heard can resemble a roar, squeal, whine, buzz, click, hiss, or hum and can affect one ear or both.
The American Tinnitus Association lists three types of this disorder based on how patients perceive the sound:
Tonal Tinnitus: Near-continuous or overlapping sounds. The volume often fluctuates.
Pulsatile Tinnitus: Here, the sounds seem to pulse, often in time with an individual's heartbeat.
Musical Tinnitus: With this rare variation, the sound is musical, sometimes the same tune on a constant loop.
What is the cause of tinnitus?
In most cases of tinnitus, no cause can be identified other than age-related hearing loss. But the disorder can also stem from damage to the microscopic endings of the hearing nerve in the inner ear, often as the result of exposure to loud noise that damages hearing. This has been seen in people who work in noisy environments such as factories or construction. Loud music can also be a risk, as can bomb blasts – according to the National Institute on Deafness and Other Communication Disorders (NIDCD) tinnitus is one of the most common service-related disabilities among veterans returning from Iraq and Afghanistan.
Other causes include allergy, ear and sinus infections, high or low blood pressure, Meniere's disease, hormonal changes in women, thyroid abnormalities, a tumor, diabetes, thyroid problems, a head or neck injury. Some 200 drugs including anti-inflammatories, antibiotics, sedatives, antidepressants and aspirin have been associated with tinnitus. Here, switching drugs or lowering the dosage usually solves the problem.
Beyond that, the American Association of Otolaryngology – Head and Neck Surgery (AAO), which includes specialists in ear disorders, lists excessive ear wax as an easily remedied cause of tinnitus. Earwax can set off tinnitus if it touches the eardrum, causing pressure and changing how the eardrum vibrates. Middle ear infections that cause hearing problems can also cause tinnitus.
Despite all these possible causes, in some cases tinnitus develops for no reason that can be identified.
How is tinnitus diagnosed?
Diagnosing tinnitus usually begins with a complete medical history in an effort to identify possible causes, as well as to determine how troublesome tinnitus is in your case. If the tinnitus affects only one ear, is associated with hearing loss or is persistent, a hearing test called an audiogram may be recommended. Imaging tests such as X-rays, CT scans usually are not necessary.
What is the conventional treatment of tinnitus?
According to the AAO, if a specific cause for tinnitus can be identified, treatment may be as simple as removing wax or hair from your ear canal, treating middle ear fluid or arthritis in the jaw joint. If you have some hearing loss, hearing aids may be recommended, which can help improve your symptoms somewhat. Sound therapy, which may consist of background music or noise or specialized ear level devices to mask sound, may also help.
If necessary, cognitive behavior therapy to help you deal with the effects of tinnitus on your quality of life may be recommended. And if tinnitus has triggered depression or anxiety, psychological or psychiatric treatment may help. However, without a medical indication, drug treatment for tinnitus with antidepressants, anticonvulsants, anti-anxiety drugs or injection of intratympanic medications isn't recommended.
In addition, the AAO suggests these self-help measures:
Avoid exposure to loud sounds and noises.
Lower your salt intake (salt impairs blood circulation).
Avoid stimulants such as coffee, tea, cola and tobacco.
Get adequate rest; avoid fatigue
What therapies does Dr. Weil recommend for tinnitus?
Dr. Weil endorses the self-help measures from the AAO. Beyond that, he recommends trying ginkgo, two tablets of standardized extract three times a day with meals for treatment of tinnitus. Ginkgo may help by increasing blood circulation in the head and neck. Dr. Weil advises giving ginkgo at least a two months trial.
Dr. Weil also cites the experience of his colleague, naturopathic physician Judy Hutt, N.M.D. who sends her patients with tinnitus to an osteopathic physician experienced in craniosacral therapy, a gently manipulative technique for the bones in the head. Dr. Hutt says this seems to take the pressure off the auditory nerves. She also has found that reducing blood pressure via weight loss can help with tinnitus.
Dr. Weil also suggests trying not to worry about your tinnitus. Instead, he recommends investigating tinnitus retraining therapy with otolaryngologists or audiologists who can help you learn to cope better with the disorder. And because stress can worsen tinnitus, Dr. Weil advises practicing breathing exercises or other relaxation techniques.