Exercise To Reduce Alzheimer's Risk?
I understand some new evidence shows that regular exercise can help stave off Alzheimer's disease. If this is true, can you tell me what kind of exercise would be best?
Andrew Weil, M.D. | September 8, 2019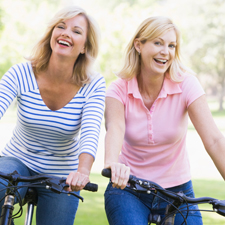 We've known for some time that regular exercise appears to lower the risk of developing Alzheimer's disease (AD). The latest findings, from the University of Wisconsin School of Medicine and Public Health, were presented in August 2019 at the annual meeting of the American Psychological Association. They showed that fewer age-related changes in biomarkers linked to AD occur among physically active people in late middle age who are at risk for the disease. Lead researcher Ozioma Okonkwo, Ph.D., an assistant professor of medicine, reported that people in one study whose parents had probable Alzheimer's all had neurophysiological testing and brain scans to measure those biomarkers. The tests showed a decrease in cognitive abilities and an increase in biomarkers associated with the Alzheimer's in the older people tested. However, they also revealed that those age 60 and older who had engaged in moderate exercise for about 30 minutes per day five days a week had fewer changes than those who hadn't exercised regularly. Dr. Okonkwo said that the studies show evidence that lifestyle habits – specifically regular, moderate exercise – "can modify the effect of what is commonly considered a nonmodifiable risk factor for Alzheimer's, in this case, aging."
He also reported on another study that included 95 people who had certain genes associated with Alzheimer's disease. Here, too, the researchers looked at changes in biomarkers linked to risk of the disease and what role, if any, aerobic fitness might play. They saw that people whose risk scores were highest had increased biomarkers for AD, but in those with greater aerobic fitness the increase was less pronounced.
A third study from the same team looked at MRIs from 107 people have one or two parents with AD, have genes that put that t risk for AD or both.  The researchers asked these individuals to run on a treadmill to assess their aerobic fitness. They found that white matter hyperintensities, an indication of AD, were significantly increased in the brain with age, but less so in participants whose levels of aerobic fitness were high.
These new findings are certainly encouraging and add to what we've already learned about the effects of regular aerobic exercise on Alzheimer's risk. Here's a summary of some findings from my last review of this issue in 2015:
Researchers in Denmark reported improvements in mental speed and attention in a group of patients between the ages of 50 and 90 (average age, 70.9) with mild to moderate Alzheimer's who performed supervised aerobic exercise for 16 weeks.
Investigators at North Carolina's Wake Forest University found that aerobic exercise was associated with a reduction of levels of tau protein in cerebrospinal fluid (CSF). Higher levels of tau are linked to faster rates of decline in AD.
Canadian researchers reported on a 6-month study showing that aerobic exercise significantly improved memory and selective attention in patients who had suffered ministrokes that affected memory and thinking ability.
(Note that study reports presented at professional association meetings are considered preliminary until published in peer-reviewed medical journals.)
Andrew Weil, M.D.
Source:
Ozuma Okonkwo, "Regular Exercise May Slow Decline in Those at Risk of Alzheimer's," presentation at the American Psychological Association Annual Convention," August 9, 2019, Chicago, IL.