Does The COVID Vaccine Raise CRP Level?
I've heard that getting the COVID-19 vaccine can raise my CRP level. Is that true, and is it dangerous?
Andrew Weil, M.D. | August 31, 2021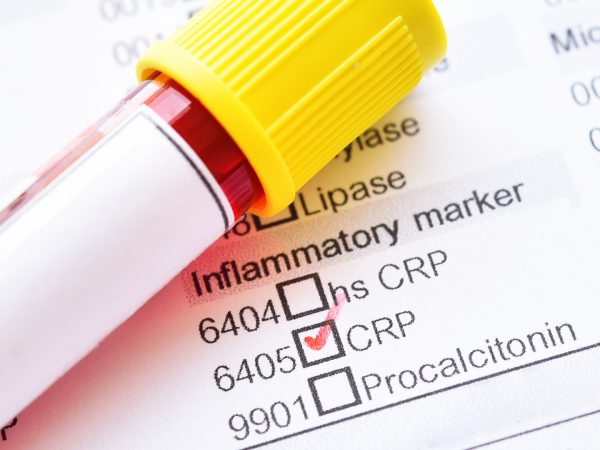 CRP stands for C-reactive protein, which is produced by the liver and regarded as a general indicator of inflammation in the body. An elevated level of CRP is considered an increased risk for heart disease, and testing CRP levels is often part of cardiac care. Since the COVID-19 vaccination predictably generates an immune response, including increased inflammation, the shots may temporarily elevate CRP levels. A transient increase in CRP levels has also been observed after other vaccines, including those for influenza and pneumococcal pneumonia.  It is not generally a cause for concern. If your doctor has recommended a CRP test as part of your cardiac care, you should wait a week or two after your COVID-19 vaccine so that this normal reaction to the vaccine does not skew your test results.
Like all vaccines, those that protect against COVID-19 work by triggering the immune system to recognize a new pathogen. The vaccine does not make the person receiving it sick, but it does prompt an immune response that teaches the body how to defend itself when it's exposed to the real thing. That response is what makes some people feel mildly ill after being vaccinated.
It is notable that there are other factors that can elevate CRP levels. People who are obese or older and those who smoke or who have autoimmune conditions such as rheumatoid arthritis or inflammatory bowel disease, often have high levels of CRP. All those conditions have inflammation as underlying characteristics, and as a marker for inflammation their CRP will typically be elevated.
The temporary increase in CRP after a vaccine is not the same as long-term elevation associated with these other risks. It is also not the same as dangerously high levels of CRP seen as a result of infection with the coronavirus itself. As we have learned in the past year or so, elevated levels of CRP are associated with poor prognoses in patients with COVID-19.
The bottom line is that a temporary elevation in CRP level is to be expected after a vaccine. It is not a cause for concern and no medical intervention is needed.
Andrew Weil, M.D.
Sources:
Du Clos TW. "Function of C-reactive protein." Ann Med. 2000 May;32(4):274-8. doi: 10.3109/07853890009011772. PMID: 10852144. https://pubmed.ncbi.nlm.nih.gov/10852144/
Sahin U, Muik A, Derhovanessian E, Vogler I, Kranz LM, Vormehr M, Baum A, Pascal K, Quandt J, Maurus D, Brachtendorf S, Lörks V, Sikorski J, Hilker R, Becker D, Eller AK, Grützner J, Boesler C, Rosenbaum C, Kühnle MC, Luxemburger U, Kemmer-Brück A, Langer D, Bexon M, Bolte S, Karikó K, Palanche T, Fischer B, Schultz A, Shi PY, Fontes-Garfias C, Perez JL, Swanson KA, Loschko J, Scully IL, Cutler M, Kalina W, Kyratsous CA, Cooper D, Dormitzer PR, Jansen KU, Türeci Ö. "COVID-19 vaccine BNT162b1 elicits human antibody and TH1 T cell responses." Nature. 2020 Oct;586(7830):594-599. doi: 10.1038/s41586-020-2814-7. Epub 2020 Sep 30. Erratum in: Nature. 2021 Feb;590(7844):E17. PMID: 32998157. https://pubmed.ncbi.nlm.nih.gov/32998157/
Potempa LA, Rajab IM, Hart PC, Bordon J, Fernandez-Botran R. "Insights into the Use of C-Reactive Protein as a Diagnostic Index of Disease Severity in COVID-19 Infections." Am J Trop Med Hyg. 2020 Aug;103(2):561-563. doi: 10.4269/ajtmh.20-0473. Epub 2020 Jun 25. PMID: 32588812; PMCID: PMC7410479. https://pubmed.ncbi.nlm.nih.gov/32588812/
Tsai MY, Hanson NQ, Straka RJ, Hoke TR, Ordovas JM, Peacock JM, Arends VL, Arnett DK. "Effect of influenza vaccine on markers of inflammation and lipid profile." J Lab Clin Med. 2005 Jun;145(6):323-7. doi: 10.1016/j.lab.2005.03.009. PMID: 15976761. https://pubmed.ncbi.nlm.nih.gov/15976761/
Posthouwer D, Voorbij HA, Grobbee DE, Numans ME, van der Bom JG. "Influenza and pneumococcal vaccination as a model to assess C-reactive protein response to mild inflammation." Vaccine. 2004 Dec 2;23(3):362-5. doi: 10.1016/j.vaccine.2004.05.035. PMID: 15530681. https://pubmed.ncbi.nlm.nih.gov/15530681/