Do I Need A Vaccine If I Already Had Covid-19?
My whole family got mild cases of Covid-19 last year. Do we need to be vaccinated if we already had the virus? Aren't we immune?
Andrew Weil, M.D. | September 6, 2021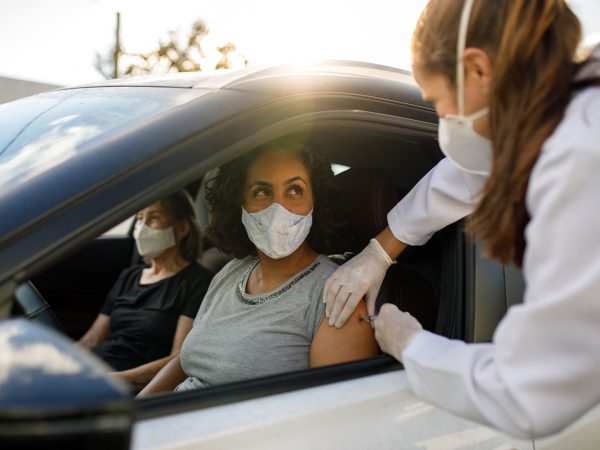 When you become infected with a virus, your immune system goes to work — not only fighting the current infection but also remembering the virus for the next time you're exposed. In some cases that memory can last a lifetime, which is why it's so rare, although not impossible, for anyone who had measles or chicken pox (or the vaccines for them) to get them again. In other cases, the immunity doesn't last, or a virus mutates enough that it doesn't trigger the previous memory, and you can get sick again. That's why we get a new influenza vaccine each year as new strains arise. We still don't know enough about the SARS-CoV-2 virus to predict how long immunological memory lasts, or if immunity from one variant protects against others. So yes, even if you've already had COVID-19, you should get the vaccine to reduce your risk of becoming sick again.
In the year and a half since the first reported infections, we have learned more about how our immune response to this virus behaves over time. A study published in the journal Science looked at patients who had recovered from COVID-19 for up to eight months after they were infected to see how well their immune systems remembered the virus. The study looked at four different types of immunological memory (antibodies, memory B cells, and two types of T cells), and found that memory to be robust in 95 percent of patients five to eight months after recovery. That memory, however, is not a guarantee of immunity against reinfection by the original virus, and protection against variants is an even greater unknown. The study could only conclude that long-lasting immunity against reinfection is possible in most people. We do know, however, that some people have been infected more than once, so that immunity is not absolute.
A more recent study, published just a few weeks ago, looked at Kentucky residents who had been infected with COVID-19 in 2020 to see how those who had been vaccinated fared against those who had not, a year later. It found that of those people who had been infected in 2020, the unvaccinated among them were more than twice as likely to be reinfected in May and June of 2021 than those who'd been vaccinated. That study also noted that immune responses in those previously infected were weak or inconsistent against variants – and given that the Delta variant now accounts for more than 90 percent of new infections, immunity based on the original virus may not be enough protection today.
The CDC notes that the Delta variant may cause more severe illness in the unvaccinated than the original virus (which has largely disappeared), and that vaccines remain effective at reducing the risk of contracting any of the variants now known. Vaccinated people who do experience breakthrough infections with the Delta variant are less likely to become severely ill, less likely to require hospitalization, and are contagious for less time, thereby reducing the spread.
The bottom line is that you and your family probably have some protection against reinfection due to your illness last year, but you should still get vaccinated for more reliable protection.
Andrew Weil, M.D.
Sources:
Dan JM, Mateus J, Kato Y, Hastie KM, Yu ED, Faliti CE, Grifoni A, Ramirez SI, Haupt S, Frazier A, Nakao C, Rayaprolu V, Rawlings SA, Peters B, Krammer F, Simon V, Saphire EO, Smith DM, Weiskopf D, Sette A, Crotty S. Immunological memory to SARS-CoV-2 assessed for up to 8 months after infection. Science. 2021 Feb 5;371(6529):eabf4063. doi: 10.1126/science.abf4063.  https://pubmed.ncbi.nlm.nih.gov/33408181/
Cavanaugh AM, Spicer KB, Thoroughman D, Glick C, Winter K. Reduced Risk of Reinfection with SARS-CoV-2 After COVID-19 Vaccination – Kentucky, May-June 2021. MMWR Morb Mortal Wkly Rep. 2021 Aug 13;70(32):1081-1083. doi: 10.15585/mmwr.mm7032e1. PMID: 34383732; PMCID: PMC8360277. https://pubmed.ncbi.nlm.nih.gov/34383732/