COVID-19 Vaccine Issues?
I'm conflicted about getting the COVID-19 vaccine. I'm worried about an allergic reaction, and the chance that it will make me sick. Your thoughts?
Andrew Weil, M.D. | February 24, 2022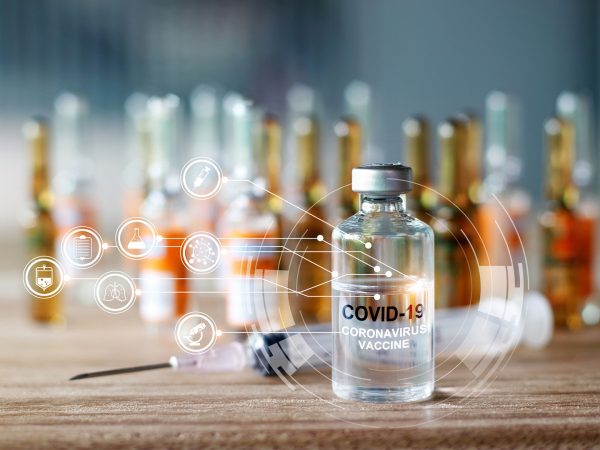 Persistent worry over the safety of the COVID-19 vaccines has kept many people from getting their shots, even more than a year after vaccination became widely available in the United States. It's true that there have been some extremely rare cases of adverse effects associated with the vaccine, which makes some concern understandable. As the delta and then omicron variants swept the nation, however, it became clearer than ever that vaccination is our best defense against developing serious complications from the coronavirus. I have been vaccinated and boosted and I am a strong proponent of inoculation for all who are eligible. I believe the risk/benefit analysis remains heavily on the side of getting the vaccine, and a look at the data may help ease your fears.
The COVID-19 vaccines became available to health care workers in the United States in late 2020, then rolled out over the following weeks and months to essential workers and other high-risk groups, then to all adults, and by the end of 2021 to all children over age 5. By February of 2022 more than 250 million Americans (more than 75 percent of the population) had received at least one dose, with more than 214 million fully vaccinated (meaning they'd had their second dose). More than 92 million people had received their recommended booster shot by then. That amounts to hundreds of millions of individual doses delivered, with very, very few adverse effects.
While that vaccination rollout was happening in 2021, the world went through two dramatic pandemic surges. The delta variant emerged over the summer, and although there were some breakthrough infections in those who had been vaccinated, infection with the mutated virus was much more common, and more serious, in those who had not. Later in the year, omicron stunned us all with its rapid-fire transmission rate. Thankfully it seemed less likely to lead to hospitalization and death than the original virus or earlier variants, but again the statistics showed that the unvaccinated were more likely to become infected, and more likely to become seriously ill, than those who had gotten their shots.
The Centers for Disease Control and Prevention (CDC) released data that covered the period from April to December of 2021, including both the delta surge and the first emergence of omicron, and noted that the rates of cases and deaths were consistently higher in all periods among those who were not vaccinated. In the state of Texas, health officials tracking the virus said that at the end of January 2022 the unvaccinated were 7 times more likely to become infected with the coronavirus than the vaccinated, and 45 times more likely to die of a COVID-related illness.
The CDC has put vaccination at the top of its list of twentieth-century public health achievements in the United States, noting that it resulted in either control or complete eradication of smallpox, polio, measles, rubella, tetanus, diphtheria, and other scourges that once claimed millions of lives every year. Yet in 2019, even before the current pandemic, the World Health Organization (WHO) named vaccine hesitancy as one of the top 10 threats to global health. Resistance to getting vaccinated has led to outbreaks of diseases that should no longer be a threat, and now it's threatening our ability to get past the current pandemic.
It's true that there have been reports of allergic reactions in those receiving the COVID-19 vaccine, which is why vaccine centers monitor patients for at least 15 minutes after each inoculation. As a rule, allergic reactions to vaccines are rare and reportedly occur at a rate of about one in a million, although some data suggest higher rates with the COVID vaccines. According to the American College of Allergy, Asthma and Immunology, however, people with common allergies are "probably no more likely than the general public to have an allergic reaction to the mRNA COVID-19 vaccines."
If you have specific health conditions that may be causing your hesitation, consult with your health care provider. Young women in particular should consider options other than the J&J/Janssen COVID-19 vaccine due to the rare risk of blood clots after vaccination. For the most part, however, the risk of getting infected and sick from COVID is much greater than the risk of any side effects.
The new vaccines were brought to market in a remarkably short time frame, which is an amazing accomplishment that shows what science can do when properly resourced and focused. I know there is some fear that safety may have been sacrificed in the rush to distribute shots, but there is no evidence of that – all vaccines went through all the steps of testing safety and effectiveness – and none of the vaccines rely on new science. (The mRNA versions have been in development for decades.) You may want to watch a video series on the different vaccine types and how they work from Randy Horwitz, M.D., Ph.D., the medical director of the Andrew Weil Center for Integrative Medicine.
The 5 Types of Vaccines (https://youtu.be/1GzzsNy_Tk0)
The COVID-19 mRNA Vaccine (https://www.youtube.com/watch?v=3K0I6KrwkEI)
COVID-19 Vaccine Trials (https://www.youtube.com/watch?v=RLirkm2i0eU)
Stay well!
Andrew Weil, M.D.
Sources:
American College of Allergy, Asthma, and Immunology Updates to Guidance on Risk of Allergic Reactions to COVID-19 Vaccines
https://acaai.org/news/acaai-updates-to-guidance-on-risk-of-allergic-reactions-to-covid-19-vaccines/  (Accessed 2-13-2022)
Centers for Disease Control and Prevention, "COVID-19 Vaccinations in the United States" (Accessed 2/13/2022) https://covid.cdc.gov/covid-data-tracker/#vaccinations_vacc-total-admin-rate-total
Centers for Disease Control and Prevention, "Delta Variant: What We Know About the Science" (Accessed 2/13/2022) https://www.cdc.gov/coronavirus/2019-ncov/variants/delta-variant.html
Texas Department of State Health Services, "COVID-19 Cases and Deaths by Vaccination Status Dashboard" https://www.dshs.texas.gov/immunize/covid19/data/vaccination-status.aspx (Accessed 2-13-2022)
Centers for Disease Control and Prevention, "COVID-19 Incidence and Death Rates Among Unvaccinated and Fully Vaccinated Adults with and Without Booster Doses During Periods of Delta and Omicron Variant Emergence — 25 U.S. Jurisdictions, April 4–December 25, 2021" https://www.cdc.gov/mmwr/volumes/71/wr/mm7104e2.htm
World Health Organization, "Vaccination: European Commission and World Health Organization join forces to promote the benefits of vaccines." https://www.who.int/news/item/12-09-2019-vaccination-european-commission-and-world-health-organization-join-forces-to-promote-the-benefits-of-vaccines
Centers for Disease Control and Prevention, "Understanding mRNA COVID-19 Vaccines" (Accessed 2-13-2022) https://www.cdc.gov/coronavirus/2019-ncov/vaccines/different-vaccines/mrna.html
Originally Posted December 2020. Updated February 2022.