COVID-19 And Smoking?
Can you tell me whether smoking has any effect on COVID-19? Does it worsen the disease?
Andrew Weil, M.D. | March 22, 2021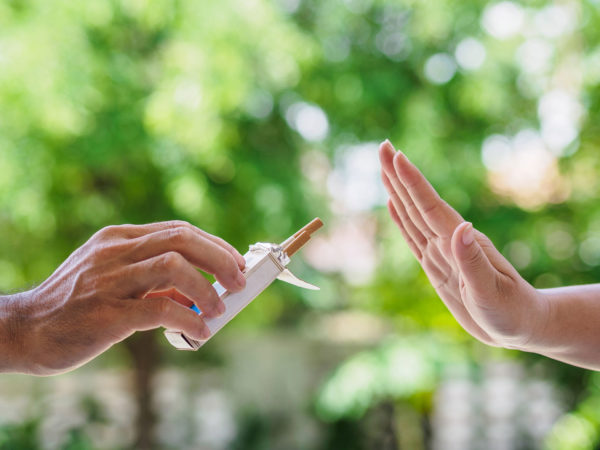 A study from the Cleveland Clinic published in January (2021) and an analysis from the World Health Organization published in June 2020 looked at the effect of smoking on patients with COVID-19. The Cleveland Clinic team reported that to its knowledge no earlier studies had investigated the cumulative effect of long-term smoking on the outcome of COVID-19 infection. This study included 102 patients with lung cancer. Results showed that that those with severe COVID-19 outcomes had smoked longer – 30 versus 20 years. Not surprisingly, the researchers reported that patients who smoked more than 30 years were more likely to be hospitalized than patients who never smoked.
The study also compared people who never smoked who tested positive for COVID-19 between March 8 and August 25, 2020 to patients who reported smoking for up to 10 to 30 years or more. Those who smoked for more than 30 years were older – average age 71 – than patients who never smoked – average age 49. The smokers were more likely to be white and obese.
This study also found that 86 percent of the heavy smokers were more likely to have been diagnosed with high blood pressure versus 37 percent of the non-smokers. Those with the most exposure to cigarette smoke who developed COVID-19 had higher risks of hospitalization and death. In fact, current and previous smoking appeared to be the key risk factor for severe outcomes of COVID-19, although the U.S. Centers for Disease Control and Prevention (CDC) lists smokers as only one of the groups at high risk for severe disease, and the Cleveland Clinic team wrote that research on the role of smoking in patients with the disease has been "limited and contradictory."
Nonetheless, it appears to me that being a current or former smoker increases your risk of severe illness if you develop COVID-19. Be aware that counseling from a healthcare provider as well as medications approved by the U.S. Food and Drug Administration (FDA) can double the chances of successfully quitting smoking compared to self-directed methods. Here's where you can find my recommendations on the best ways of quitting for good.
Andrew Weil, M.D.
Source:
Katherine E. Lowe et al, "Association of Smoking and Cumulative Pack-Year Exposure with COVID-19 Outcomes in the Cleveland Clinic COVID-19 Registry", January 25, 2021.