CBD Oil During Chemotherapy?
I am undergoing chemotherapy for cancer, and a friend recommended I take CBD oil to help with the pain and nausea. Is it safe to do that, and does it work?
Andrew Weil, M.D. | June 28, 2021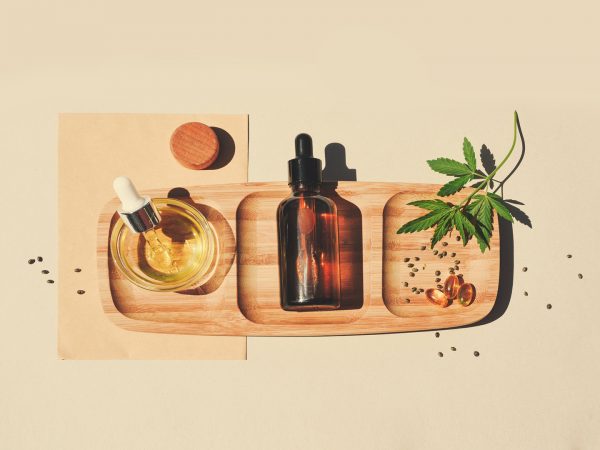 With medical cannabis now legal in 36 U.S. states, and cancer listed as a qualifying condition in many of them, it's no wonder that more and more cancer patients are inquiring about using it, or its derivative cannabidiol (CBD). It's also becoming more common for mainstream medical oncologists to consider recommending medical cannabis for their patients undergoing chemotherapy. Before you make any decisions about whether CBD or other forms of cannabis may be right for you, be sure to check with your doctor. Anything you take while undergoing chemotherapy could have unwanted or dangerous interactions with your chemo regimen, so don't take CBD – or any other supplements or medications – without talking to your oncologist first.
Many patients have found that medical marijuana or its derivatives can help ease pain and nausea, especially those caused by chemotherapy, and the science supports that. In 2017, an ad hoc committee of the National Academies of Sciences, Engineering, and Medicine found strong evidence that cannabis or cannabinoids are effective for the treatment of chronic pain in adults and chemotherapy-induced nausea.
Cancer patients who use forms of medical marijuana for pain are often taking tetrahydrocannabinol (THC), which is the primary active ingredient that creates the psychoactive effects (the euphoria or "high") that cannabis smokers experience.  One recent study compared the effects of THC-dominant products against those based primarily on CBD and on products that have a mix of THC and CBD. Results showed CBD to be comparatively effective in relieving pain, without the psychoactive effects.
CBD is ubiquitous these days, and is available in oils, beauty products, capsules, and "edibles" like gummies. Even oromucosal CBD sprays have been tested and shown to be effective as an adjunctive treatment in chronic pain.
One of the most debilitating side effects of some chemotherapy regimens is peripheral neuropathy – pain in the arms and hands, legs and feet, caused by nerve damage. In a recent mouse study, researchers found evidence that CBD may be effective at staving off chemotherapy-induced peripheral neuropathy. As with many clinical trials investigating the benefits of cannabinoids, CBD was more effective when combined with very low doses of THC.
Please keep in mind that relying on CBD or cannabis alone as treatment for cancer may have serious health consequences, especially if using it delays the use of conventional medical care. While the studies so far have shown that cannabinoids can be safe in treating cancer and the effects of its treatments, they do not show that they help control or cure the disease.
Having said that, there have been some clinical trials of cannabinoids in treating cancer in humans that look promising, and more studies are planned. Although some of these investigations have concluded that THC and other cannabinoids such as CBD can help slow the growth or cause death in certain types of cancer cells, it would be premature to make changes in cancer protocols based on these results.
Andrew Weil, M.D.
Sources:
King KM, Myers AM, Soroka-Monzo AJ, Tuma RF, Tallarida RJ, Walker EA, Ward SJ. "Single and combined effects of Δ9 -tetrahydrocannabinol and cannabidiol in a mouse model of chemotherapy-induced neuropathic pain." Br J Pharmacol. 2017 Sep;174(17):2832-2841.
Shah SA, Gupta AS, Kumar P. "Emerging role of cannabinoids and synthetic cannabinoid receptor 1/cannabinoid receptor 2 receptor agonists in cancer treatment and chemotherapy-associated cancer management." J Cancer Res Ther. 2021 Jan-Mar;17(1):1-9.
Petrovici AR, Simionescu N, Sandu AI, Paraschiv V, Silion M, Pinteala M. "New Insights on Hemp Oil Enriched in Cannabidiol: Decarboxylation, Antioxidant Properties and In Vitro Anticancer Effect." Antioxidants (Basel). 2021;10(5):738. Published 2021 May 7.
Aviram J, Lewitus GM, Vysotski Y, Uribayev A, Procaccia S, Cohen I, Leibovici A, Abo-Amna M, Akria L, Goncharov D, Mativ N, Kauffman A, Shai A, Hazan O, Bar-Sela G, Meiri D. "Short-Term Medical Cannabis Treatment Regimens Produced Beneficial Effects among Palliative Cancer Patients." Pharmaceuticals (Basel). 2020 Nov 30;13(12):435.
Mould RR, Botchway SW, Parkinson JRC, Thomas EL, Guy GW, Bell JD, Nunn AVW. "Cannabidiol Modulates Mitochondrial Redox and Dynamics in MCF7 Cancer Cells: A Study Using Fluorescence Lifetime Imaging Microscopy of NAD(P)H." Front Mol Biosci. 2021 May 11;8:630107.
Ueberall MA, Essner U, Mueller-Schwefe GH. "Effectiveness and tolerability of THC:CBD oromucosal spray as add-on measure in patients with severe chronic pain: analysis of 12-week open-label real-world data provided by the German Pain e-Registry." J Pain Res. 2019;12:1577-1604. Published 2019 May 20. ncsl/research/health/state-medical-marijuana-laws.aspx
National Academies of Sciences, Engineering, and Medicine. 2017. The Health Effects of Cannabis and Cannabinoids: The Current State of Evidence and Recommendations for Research. Washington, DC: The National Academies Press. nap/catalog/24625/the-health-effects-of-cannabis-and-cannabinoids-the-current-state, nap/resource/24625/Cannabis_committee_conclusions.pdf