More Sesame Allergies?
My nephew was just diagnosed with a sesame allergy. How common is it and what foods do you have to avoid?
Andrew Weil, M.D. | February 21, 2019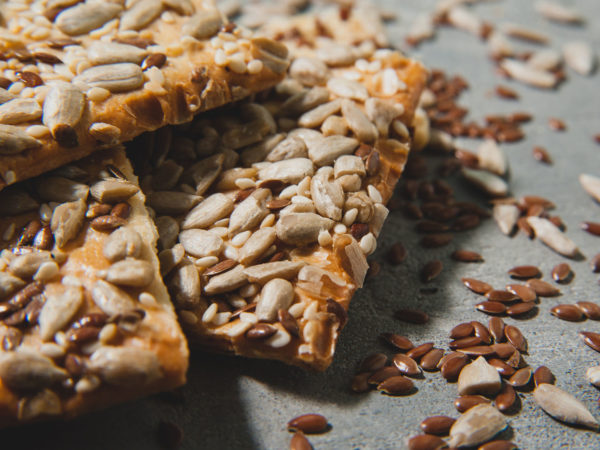 A study from Northwestern University published in November 2018 determined that 0.2 percent of children in the U.S. are allergic to sesame, making it the ninth most common food allergy in kids. That's twice the number revealed by a study published in 2010. Northwestern study leader Ruchi Gupta, M.D., M.P.H., a professor of pediatrics, says sesame may be causing a lot of allergic reactions because it is hard to avoid. It isn't easy to tell whether or not it's in food. The Northwestern study also found that nearly one in three affected children end up in the emergency room each year.
Sesame seeds are presently not among the allergens that are required to be listed on U.S. food ingredient labels, including milk, eggs, fish, shellfish, tree nuts, peanuts, wheat and soybeans. That may soon change: the FDA is investigating adding sesame seeds to the list. Canada, Australia, the European Union and Israel already require labeling sesame as an allergen on packaged food products that contain it.
We know that sesame allergy is widespread elsewhere in the world. In Israel it is the second and in Saudi Arabia the third most common food responsible for anaphylaxis in children. We also know that kids rarely outgrow sesame allergy. Sesame is found in an enormous variety of foods.
According to a 2018 report from the Center for Science in the Public Interest (CSPI), sesame ranks as the sixth or seventh major allergen in terms of the severity of reactions to it. CSPI also reports that in 2015-2016 a greater fraction of adults with this allergy were treated in emergency rooms for reactions than were adults with any other major food allergy. Reactions range from a rash and itching to anaphylaxis, which can be fatal if not treated promptly. If an individual has a mild reaction to sesame, that does not mean that subsequent reactions will also be mild.
Allergic reactions to sesame have occurred in response to ingestion of as little as one milligram of sesame protein, an amount found in just two seeds. Sesame seeds and oil are in far too many different foods to list here. Some are obvious – you may see the seeds on bagels, hamburger buns, and cookies, but they're also an ingredient in hummus, halvah, falafel, and many snack foods including pretzels, granola bars, and candies. Bread crumbs, cereals and crackers can contain sesame as can a large number of foods you might not suspect – margarine, processed meats and sausages, risotto and veggie burgers. Given the severity of reactions and the widespread use of sesame, adding it to the list of possible allergens on labels of packaged foods would be a reasonable preventive strategy.
Andrew Weil, M.D.
Sources:
Ruchi S. Gupta et al, "The Public Health Impact of Parent-Reported Childhood Food Allergies in the United States, Ruchi S. Gupta," Pediatrics, December 2018,
Adil Adatia et all, "Sesame allergy: current perspectives," Journal of Asthma and Allergy, April 27, 3017, doi: 10.2147.JAA.S1136121