A Depression-Allergy Link?
Can allergies make you depressed?
Andrew Weil, M.D. | July 4, 2022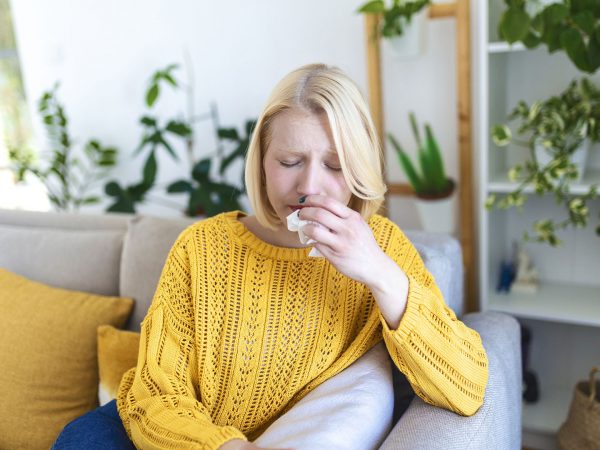 Some people with hay fever (allergic rhinitis) and other types of allergic reactions report feeling sluggish, tired, and simply "down" when their symptoms flare. However, it remains unclear if allergies themselves can trigger such changes in mood or whether they are related in some other way. Certain treatments for allergic symptoms may also play a role in altering mood.
Allergic reactions occur when your immune system treats otherwise harmless irritants such as pollen, pet dander, mold, and dust as foreign invaders and produces antibodies to them. These antibodies induce immune cells to release inflammatory compounds including histamine. As a result, you experience sneezing, a runny nose, itchy eyes, congestion, and other unpleasant symptoms.
Research suggests that there's a relationship between allergies and mental health concerns, including depression. For example, studies have found that people diagnosed with depression, or who have a family history of depression, are also more likely to have allergic rhinitis. Similarly, the risk of someone with allergic rhinitis developing depressive symptoms is 1.82 times higher than that of people without allergies. There's also evidence that people with an allergy to ragweed pollen report worsening mood and energy levels during exposure to this allergen. Some research even suggests that high pollen counts appear to correlate with an increased incidence of suicide.
Of course, we don't yet know whether or not having an allergy can cause clinical depression — or vice versa. It may be that, like any other chronic illness, suffering from allergies may take an emotional toll. Medications used to treat allergies may also be partly responsible: Antihistamines prevent histamine from binding to the receptors of immune cells and can help prevent and treat allergic symptoms, including sneezing and runny nose. However, they can also cause unwanted effects on mood. In fact, one study found that people who took the antihistamine drugs cetirizine and hydroxyzine reported increases in symptoms of depression and anxiety. If you have allergies and are concerned about their effect on your disposition, talk with your doctor.
Andrew Weil, M.D.
Source:
Mou, YK, et al. "Allergic rhinitis and depression: profile and proposal," Frontiers in Psychiatry, January 4, 2022: https://doi.org/10.3389/fpsyt.2021.820497