Vaping: E-Cigarette Dangers?
I'm concerned about the illnesses and deaths reportedly linked to vaping. Can you tell me what the symptoms are and what it is in e-cigarettes that could be causing the problem?
Andrew Weil, M.D. | September 25, 2019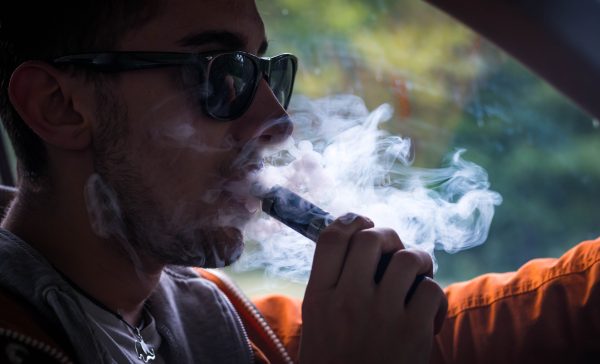 Update 11/8/2019
From the CDC: There have been 2,051 cases of lung injury reported from 49 states, the District Of Columbia, and one U.S. territory and 39 deaths have been confirmed in 24 states. The CDC posts updates on the vaping lung injury outbreak every Thursday.
"Vaping" designates the use of electronic cigarettes ("e-cigarettes). Reports of vaping-related illnesses and deaths since August (2019) are very concerning and at the time of this writing appear to be rising steadily. According to the U.S. Centers for Disease Control and Prevention (CDC), more than 530 probable cases of lung illnesses and nine deaths linked to vaping have occurred in 36 states. Another alarming statistic: the National Institutes of Health reports that 25 percent of 12th graders, 20 percent of 10th graders and nine percent of 8th graders were vaping nicotine within the month before the latest update on the use of e-cigarettes by school-aged children was issued in mid-September (2019). Dr. Nora D. Volkow, M.D., director of the National Institute on Drug Abuse, described the use of these devices as a public health crisis adding that these products "introduce the highly addictive chemical nicotine to these young people and their developing brains, and I fear we are only beginning to learn the possible health risks and outcomes for youth." Nicotine triggers a short-term increase in blood pressure, heart rate, and the flow of blood from the heart. It also causes arteries to narrow.
E-cigarettes are battery-operated products that look like cigarettes and provide nicotine, flavorings and other chemicals. The manufacturers claim that they offer the pleasures of smoking without the smoke, smell, carcinogens, tar and carbon monoxide of regular cigarettes. But it now appears these products are not as safe as claimed.
The CDC is investigating the illnesses and deaths linked to vaping but has not yet determined the exact cause of them or identified any specific vaping product (including the devices, liquids refill pods, and cartridges) common to all the cases. The agency suspects the cause to be a yet-unidentified chemical exposure linked to vaping. It also noted that vaping of products containing cannabinoids – THC and CBD – were reported by many of the patients, and THC cartridges bought on the black market have been linked to some cases of lung illness.
In an editorial published on September 6, 2019 in the New England Journal of Medicine, Dr. David C. Christiani, M.D., of the Harvard T.H. Chan School of Public Health, wrote that e-cigarette fluids contain "at least six groups of potentially toxic compounds" and noted that many of the patients had also vaped substances extracted from marijuana or hemp. He suggested that "this mixed-up stew of chemicals" might create new toxins.
Symptoms of the lung illness include cough, shortness of breath or chest pain and, in some cases, nausea, vomiting or diarrhea. Fatigue, fever, or weight loss may also occur. The CDC reports that symptoms typically develop over a period of days or, less often, over several weeks. Gastrointestinal symptoms tend to precede respiratory ones and sometimes occur before the coughing, shortness of breath or chest pain. Onset of symptoms may appear from a few days to several weeks after e-cigarette use.
Clearly, we need to know more about the risks of vaping and using e-cigarettes.
Andrew Weil, M.D.
Source:
David C. Christiani et al, "Flavoring Chemicals in E-Cigarettes: Diacetyl, 2,3-Pentanedione, and Acetoin in a Sample of 51 1 Products, Including Fruit-, Candy-, and Cocktail-Flavored E-Cigarettes. "Environmental Health Perspectives, December 8, 2015, doi: 10.1289/ehp.1510185