Is Sound Therapy Good Medicine?
What is sound therapy, and is it something I can practice in my own home?
Andrew Weil, M.D. | May 2, 2022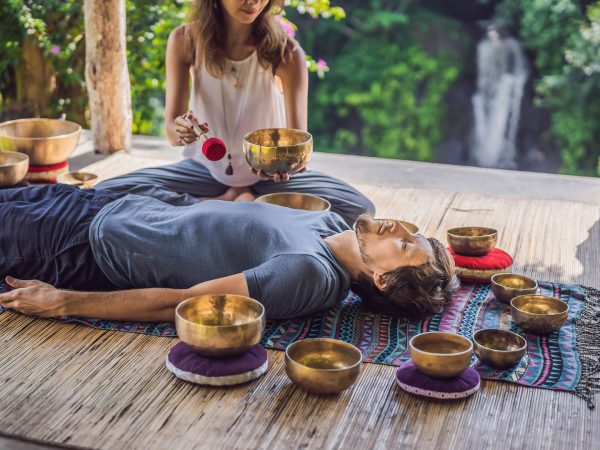 Also called music therapy, sound therapy is a technique that uses music or other sound to enhance well-being. There are many forms, useful for many conditions, and there are recordings and devices available online for home use.
Music can have a significant and profound effect on both mind and body: It's been shown to lessen anxiety, decrease fatigue, and reduce nausea and vomiting caused by chemotherapy. In fact, some hospitals use music therapy to help ease pain, boost patients' moods and counteract depression, reduce muscle tension, and promote sleep. Music therapy is also used to stimulate nursing home residents and modulate the moods of psychiatric patients.
Types of sound therapy include acts as simple as listening to music, singing, or playing an instrument. Music therapy may also accompany guided imagery or meditation. Tuning fork therapy uses calibrated metal tuning forks, applying the vibrations of these instruments to various parts of the body to relieve muscle tension and pain. Another form of sound therapy, called brainwave entrainment, uses sounds pulsating at a specific frequency to enhance focus, relaxation, and sleep.
Sound therapy may work because our bodies react instinctively to different rhythms. When you listen to slow, relaxing music, your heart naturally beats more slowly, breathing deepens and brainwaves slow down – all components of the relaxation response.
As I mentioned earlier, you don't need to see a music therapist or other practitioner to reap the benefits of sound therapy. You can find many types of recordings online aimed at using sound to induce relaxation or alertness or help you achieve goals. Simply listening to music that you enjoy may be beneficial to your health.
Andrew Weil, M.D.
Source:
"The uses and benefits of music therapy," Healthline, January 27, 2020. https://www.healthline.com/health/sound-healing