A Kinder, Gentler Chiropractor?
I went to a chiropractor years ago, and found the neck-cracking movement uncomfortable and ultimately ineffective. Now, I've heard there is something called "low-force" adjustment. What is it, and does it work?
Andrew Weil, M.D. | January 29, 2009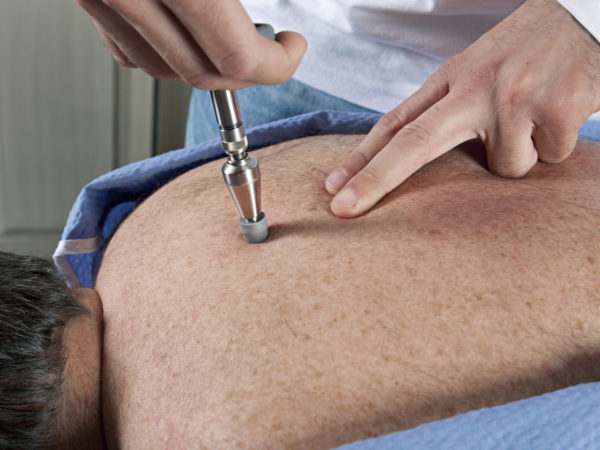 There are, in fact, many forms of chiropractic manipulation. All of them focus on correcting structural misalignments in the body to alleviate problems such as sciatica, or pain in the low back, neck or extremities. The method you experienced is known as "dynamic thrust"; a forceful movement to adjust and realign the vertebrae, often accompanied by a popping or cracking sound. This technique may cause discomfort and, rarely, injury.
But there are also low-force chiropractic techniques that can yield positive results. One of these is the Activator method. Practitioners trained in this modality use a low-force, handheld device incorporating a tension spring and plunger that produces a swift pulse of low force at high speed.
Chiropractic sessions using this technique are safer and less painful than those employing dynamic thrust manipulations because the head is kept in a neutral position, not turned or twisted. There is no risk of injury. It is also quick – typically, a patient can be assessed and treated in less than 15 minutes. As with other chiropractic techniques, there may be immediate pain relief, but best results often come from adjustments over two weeks or more.
The Activator method has undergone clinical trials that demonstrate its efficacy. I have found low-force treatments like this one to be reliable and safe, and I recommend them in my clinical practice. I find the Activator method particularly useful for pediatric and geriatric patients.
Andrew Weil, M.D.